Healthcare Chatbots: Benefits, Use-Cases & Examples
---
The Rise Of Healthcare Chatbots
In a world divided by boundaries, religion and pineapple pizza, healthcare has always been a common concern than brings humans beings together. Today, in a post-pandemic world; the healthcare industry is more important than ever.
With questions of scalability & patient engagement taking priority over all others for medical professionals, we are witnessing a rapid upsurge in the development and implementation of various AI solutions in the healthcare sector. Prime among them, are Healthcare Chatbots.
Healthcare Chatbots allows hospitals (and healthcare providers) to communicate effectively with millions of patients, across multiple touchpoints. It uses artificial intelligence to automate appointment bookings, symptom screenings, answer medical queries and collect patient feedback. Most impressively — it can do so 24 x 7, at a fraction of the cost of human agents in the healthcare industry.
Your patients don't have to go to a doctor's office for menial tasks like waiting in queues to book appointments, asking for prescriptions etc.
What Are Healthcare Chatbots?
A healthcare chatbot is a simple widget that hospitals (and other healthcare providers) can add to their websites (or web-apps) to dramatically improve their patient experience. Using conversational AI, they can effectively deal with all repetitive & mundane queries — freeing up doctors & healthcare professionals to focus on the big picture: saving human lives.
Think of healthcare chatbots as digital receptionists: they help book doctor appointments, collect patient feedback, answer quick queries and even hold on to your lab reports when you can't make it to the hospital. Only difference? A healthcare chatbot costs a whole lot less than an army of human receptionists.
Benefits of Healthcare Chatbots
✅ Higher lead generation, more doctor appointments.
✅ Lower onboarding time, more patient registrations.
✅ Lower operational costs
✅ Faster screening, lower patient turnaround time.
✅ Higher patient satisfaction & query resolution.
Use-Cases of Healthcare Chatbots
Just like any other industry chatbots in healthcare has multiple use-cases. Be it letting patients book an appointment, know more about a medical issue, or solving L1 queries, a medical chatbot can handle everything by itself.
Thus, it becomes important for healthcare services to understand the intent of their prospects and the best solution that their medical chatbot can provide.
Keeping these two things in mind, we have listed the following use-cases of a medical chatbot:
1. Appointment Scheduling For Healthcare Professionals
For healthcare services, time management is key to handling patient volume. That's why they tend to opt for conversational appointment scheduling using medical chatbots. Not only do these medical chatbots empower patients to book appointments, the bots can even
assign doctors (or healthcare professionals) for every patient
send the doctor an email with patient data
create a slot in both the patient's, as well as the doctor's calendar
.
2. Streamlined Patient Onboarding
Medical chatbots can streamline patient onboarding by collecting patient data using simple questions about name, address, symptoms, current doctor, previous health issues and insurance details.
Next, a healthcare chatbot can send the collected details to your patient management software to facilitate patient admission, symptom tracking, doctor-patient communication, and medical record keeping.
Is it any wonder that medical chatbots, powered by artificial intelligence not only reduce onboarding time, but also increase new patient registrations? There's a reason why not just the healthcare industry, but it's medical professionals are increasingly embracing chatbot technology.
3. Symptom Checker Chatbot
In case of an emergency, it's vital that a patient be brought directly to the hospital. However, if the situation isn't as extreme, then symptom screening through a healthcare chatbot makes much more sense! These medical chatbots make self-care easier by acting as a virtual assistant, collecting symptom details and providing timely medical advice to book a health check-up.
And that's not all! When the patient actually visits the doctor, this pre-screened patient data will already be available in the patient management system, thereby saving the doctor valuable time.
4. Answer Medical Queries
With patients seeking information about a basic set of questions every day, it is invaluable to have an intelligent healthcare chatbot, instead of forking out for an army of patient support professionals. No patient wants to scroll through 5000 words of FAQ to find out whether "smoking causes pimples". All they want is the ability to ask questions in their own words.
What patients need is an intuitive and user-friendly healthcare chatbot to automate the resolution of medical queries and thereby:
💎 Reduce turnaround time.
💎 Increase patient satisfaction.
And that's exactly what Natural Language Processing (NLP) does for healthcare chatbots! By enabling conversational chatbots to communicate with humans in their own language, natural language processing manages to simulate the kind of human interaction that patients visiting a cold, lifeless form will never experience.
Depending on the intelligence level of conversational chatbots in healthcare, patients can solve half of their health issues. The Healthcare industry can provide healthcare professionals using AI-powered healthcare chatbots.
A good example of this use case is mental health chatbots like Woebot.  Created in 2017 to help mental health professionals monitor the moods of its users, the healthcare chatbot allows patients to express their thoughts when they engage in therapeutic conversations.
5. Provide medical information
Another popular use-case of a healthcare chatbot is providing information, in the form of notifications, on any topic that the website visitor might want to know. Not just information, but such a chatbot can even provide customer support to the patients.
In an age where the internet has multiple answers and suggestions to your patient's queries, it becomes imperative to present accurate information at various touchpoints to make things easier for them.
A good example of this could be mental health apps using chatbots that provide mental health assistance.
---
What is WhatsApp Marketing Software?
In the public imagination, WhatsApp is viewed (rightfully so) as the most popular instant messaging service in the world. With more than two billion active users — if WhatsApp was a country, it would technically be the most populous one.
🎯 Lead Engagement: Pre-sale; includes lead generation and lead conversion
🎯 Customer Engagement: Post-sale; includes transactional messages, customer marketing and customer support.
The technology that enables the automation of these lead and customer engagement process is called a WhatsApp Marketing Software. Example? The Tars WhatsApp Engagement Suite.
What Is A WhatsApp Medical Chatbot?
A WhatsApp Medical Chatbot is a chat-based automation solution that enables hospitals (and other healthcare services) to provide end-to-end engagement across all patient touchpoints — from personalized check-up reminders to 24x7 patient support.
They do so by simulating human conversations based on a predefined set of conditions, that you are free to determine according to your specific use-case.
Benefits Of WhatsApp In Healthcare Services
Since WhatsApp is primarily perceived as an instant messaging app to communicate with friends and family, WhatsApp Marketing Software (like the Tars WhatsApp Engagement Suite) allows hospitals & healthcare businesses to position themselves as much more approachable, trustworthy and personal in all its customer interactions.
Moreover WhatsApp Messages have an open rate of nearly 98% and a response rate of nearly 40%! By giving 5x times more visibility and responses than any other channel, WhatsApp blows every other lead & customer engagement channel out of the water.
WhatsApp Use-Cases In Healthcare
1. Conversational Appointment Bookings
For the average person, healthcare is often synonymous with medical appointments. Yet most legacy hospitals & healthcare businesses often fail at this very first step by forcing patients to:
fill complex medical forms
download brand-new apps
call overworked receptionists
With these broken booking systems, it is impossible for healthcare businesses to provide a quality patient experience. That's where the Tars WhatsApp Engagement Suite comes in. Using conversational WhatsApp automation, it enables patients (and patient families) to book, cancel & reschedule medical & diagnostic appointments in a hassle-free and engaging manner.
2. Personalized Check-up Reminders
When was the last time you went for a medical check-up without any prodding from your loved ones? Despite the well-established health benefits of regular check-ups, one often needs to remind patients to simply do what's best for themselves.
Enter Tars WhatsApp Engagement Suite. Using its One-Time Campaigns feature, hospitals & healthcare businesses can send personalized check-up & test reminders coupled with attractive discount codes to segmented audience lists. What's more, patients can click on the CTA and book their next check-up from within WhatsApp itself.
By reaching patients within their own WhatsApp inbox, hospitals reduce the amount of context-switching that patients often go through while navigating across apps, thus increasing the likelihood of a successful follow-up. Ultimately this leads to higher up-sell revenue & customer retention for hospitals & healthcare businesses.
3. Smart Notifications (For Test Reports)
Quick appointment bookings & seamless delivery of test results are two sides of the same healthcare coin. At the end of the day, what patients want is easy, hassle-free access to their diagnostic reports, from within the comforts of their own home.
Enter Tars WhatsApp Engagement Suite. Using its Ongoing Campaigns feature, hospitals & healthcare businesses can automatically trigger interactive WhatsApp notifications containing test results straight from their patient management system. Patients can thus avoid going to the centre for physically collecting the reports, and better manage their time.
4. Daily Health Tips
Using the Tars WhatsApp Engagement Suite, hospitals & healthcare businesses can easily send daily health tips and prompt notifications for exercising, maintaining hygiene and having a balanced diet, etc. to promote the kind of 360 degree well-being that is in-line with the latest patient care practices.
This will not only draw patients towards a more healthy lifestyle, but will also boost the overall brand value of hospitals & healthcare businesses.
5. Answer Patient Feedback 24x7
Without a responsive patient support system, no healthcare business would ever retain its patients. This is because patients often have uniquely sensitive and urgent medical queries with an inherent expectation of prompt resolution.
Bots can answer these medical queries, document them, provide patients with relevant information and if needed — complex queries can be smoothly handed over to live agents or support teams who can take it up further for prompt resolution.
FAQs
How do you make a chatbot for healthcare?
You can make a healthcare chatbot using Tars chatbot builder. You can either choose any one of 92 chatbot templates from the Healthcare section and use it as it is or make another one from scratch on the admin dashboard.
What are some good chatbots?
5 Best Chatbot Templates for Healthcare industry:
How To Get Started With Tars WhatsApp Engagement Suite?
For a lot of you this is the part of the guide you've been waiting for so let's jump right in.
There are two parts to getting started with Tars WhatsApp Engagement Suite
✅Part A: Getting WhatsApp Business API Access
✅Part B: Building A Conversational Flow
It is important to note that these two parts do not have to occur in a particular order. In fact, we recommend that you get both started at the same time.
With that, here is a breakdown of each part 👇🏼
Part A: Getting WhatsApp Business API Access
Before you can even start thinking about creating your WhatsApp chatbot you need to get access to the WhatsApp Business API.
Step 1: Verify your Business on Facebook.
Since WhatsApp is owned by Facebook, they handle their business verification through Facebook's business platform. You can find instructions on how to verify your business through Facebook [over here]
Note: If your company runs Facebook ads you probably have this step complete
Step 2: Apply for WhatsApp Business API Access
Fill-out our WABA Submission Form, verify your phone number with OTP and generate an API token.
Step 3: Add WhatsApp Business Number
In the admin dashboard, under the campaign menu on your left, choose 'Business Number' and then fill in the necessary details like Company Name, API Key etc.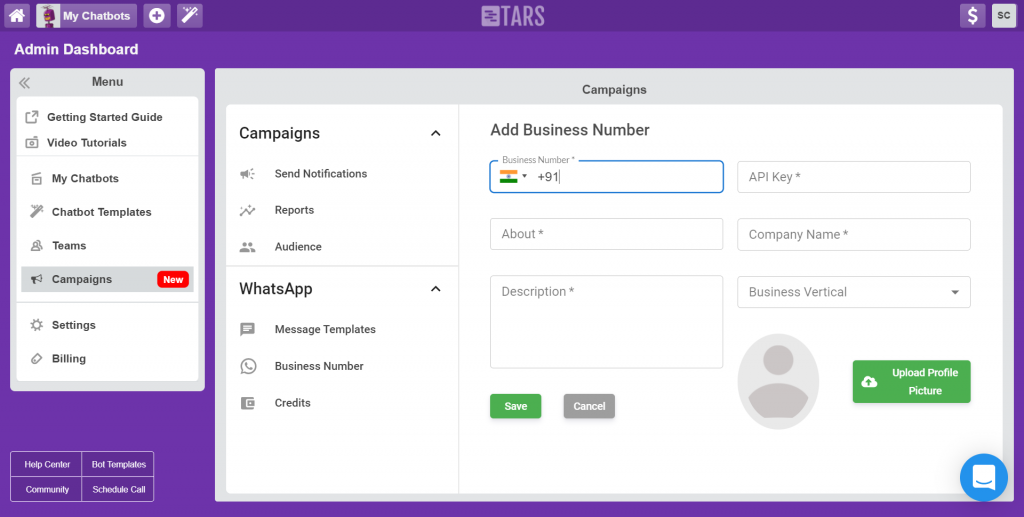 Step 4: Create Message Templates
Finally, depending on your use-case, create a message template for your first WhatsApp Campaign.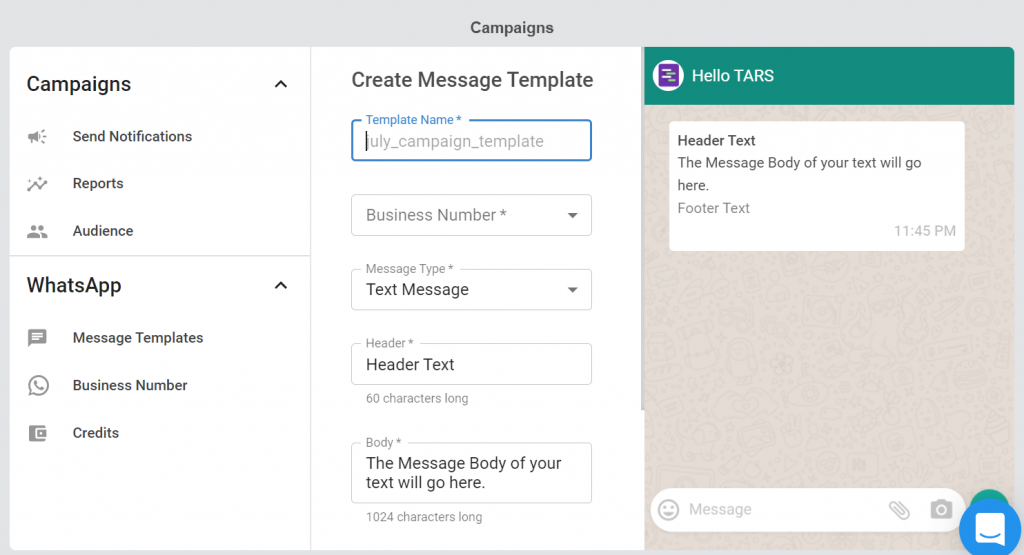 Part B: Building A Conversational Flow
Step 1: Signup for the TARS Chatbot Builder
The sign up process is super simple! All you have to do is go to https://admin.hellotars.com/, fill in a few details and signup for free!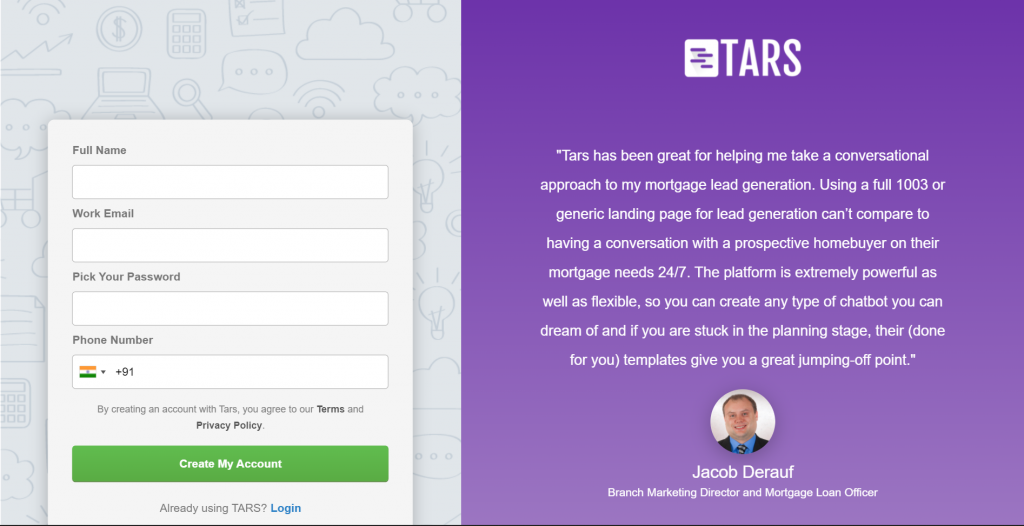 Step 2: Create A New Chatbot
When you first signup for the TARS builder you will be dropped into our templates library: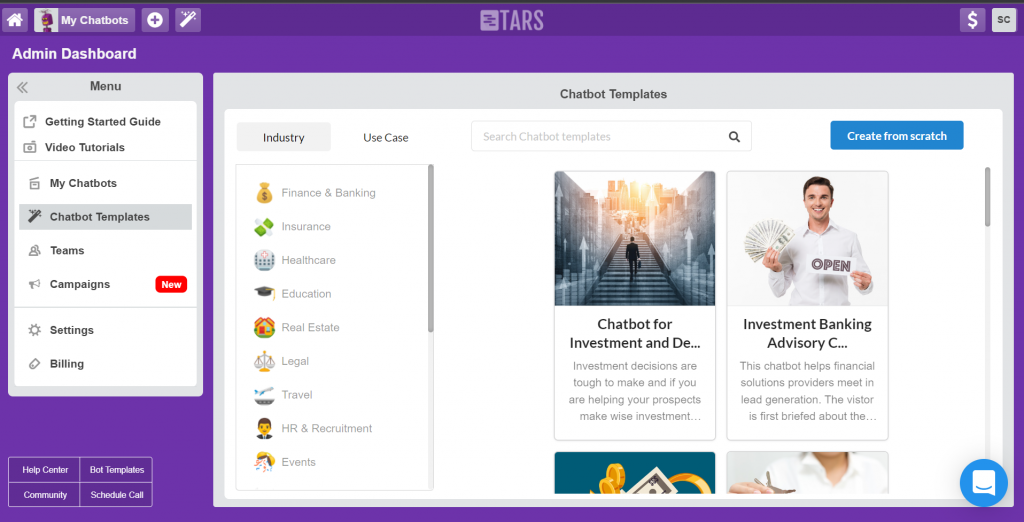 You can use any of the 950+ templates that we have as a base for your chatbot, but in this guide, we are going to build one from scratch so click the Create From Scratch button on the top-right corner of the screen:

Next, it's time to give your chatbot a cool name!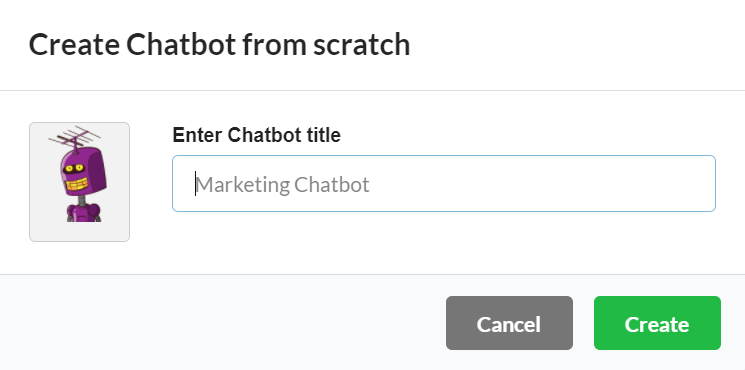 Once you hit 'create', you will be automatically taken to the 'Make Section':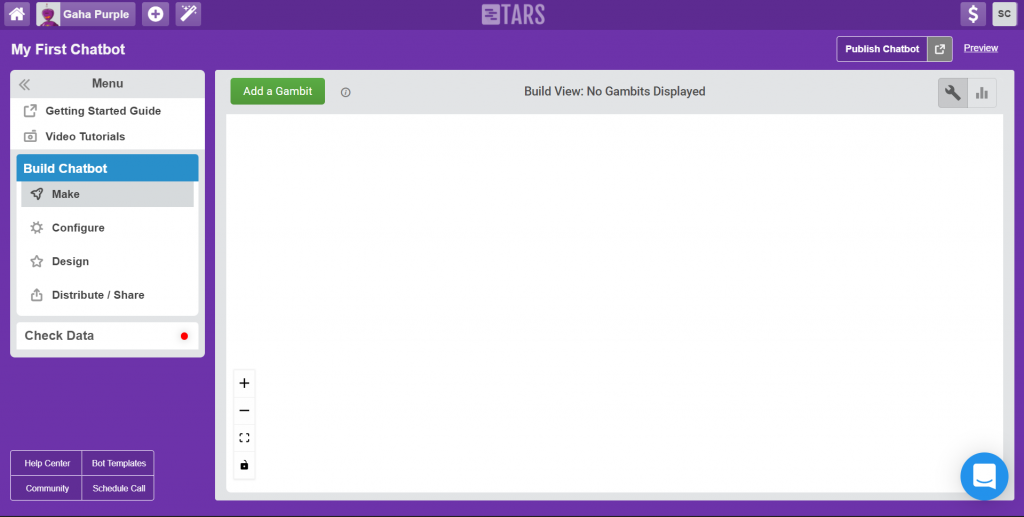 Step 3: Create A Gambit
To start creating your conversational flow, click the green 'Add a Gambit' button on the top left of the screen:

This will populate your canvas with a weird-looking object that looks like this: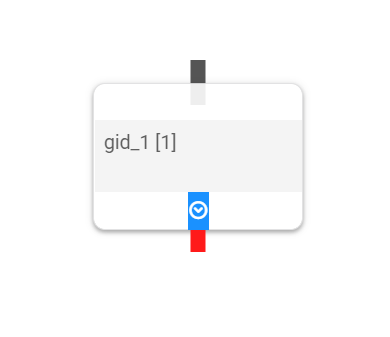 This object is called a Gambit, and it is the basic building block of any conversation. To understand how it works click on it to open up the Gambit Modal: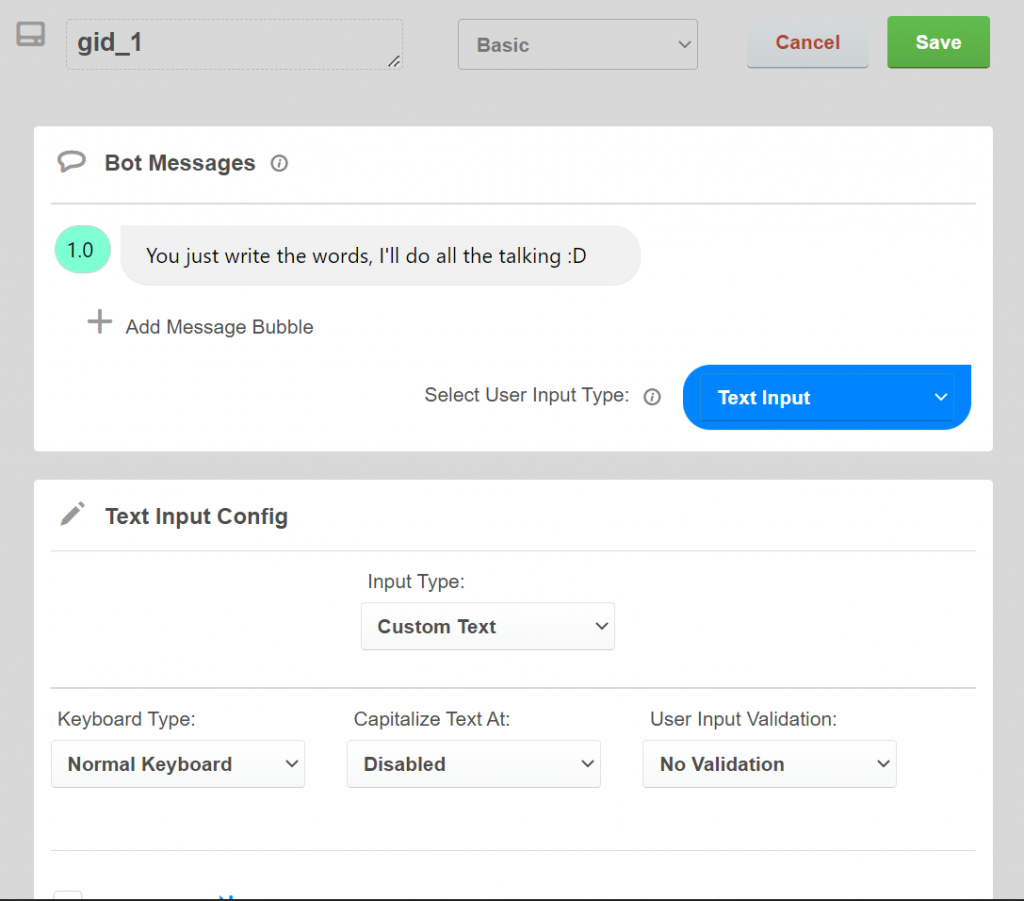 As you can see, each gambit is made up of two parts: Bot Messages and User Input. Using these two parts of the gambit modal you can define a single back-and-forth interaction between the bot and the user.
Since we're still on the first gambit, go ahead and write the messages in such a way that they welcome the user to the chatbot: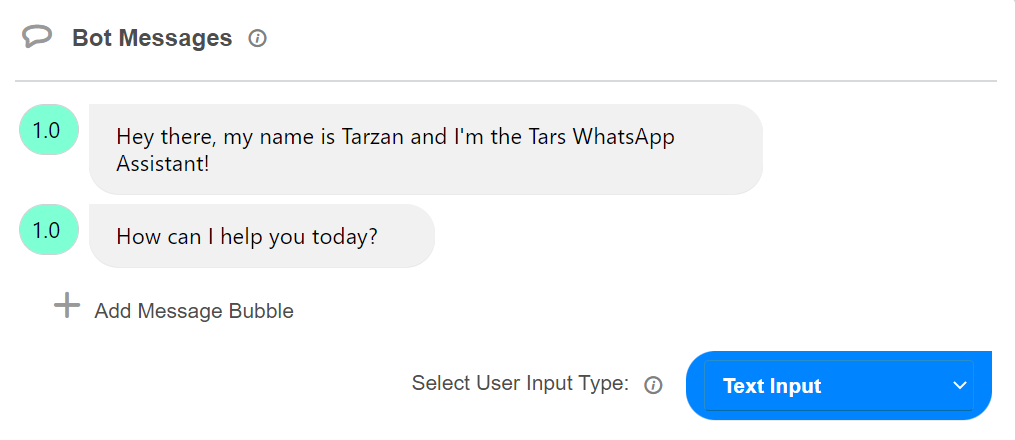 Once the messages are complete, you can specify how users can respond to these messages by clicking the Select User Input Type dropdown: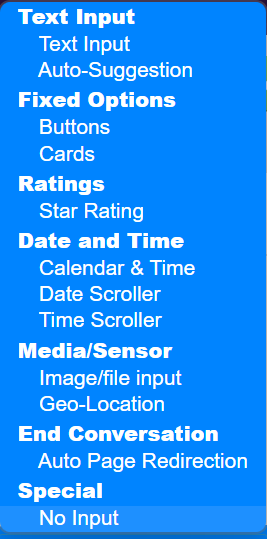 We have over a dozen user input options available in our builder, but for WhatsApp, only the text, button, image/file, geo-location, no input, and auto page redirection input UIs are compatible.
The most popular input UIs in the TARS builder are text and buttons, so we'll focus on those in this guide
But before that? Enable WhatsApp Native UI:

For the first gambit of the FAQ/Leadgen bot we are creating in this guide, select the Buttons option and type in all of the FAQs that you want the bot to answer in as buttons.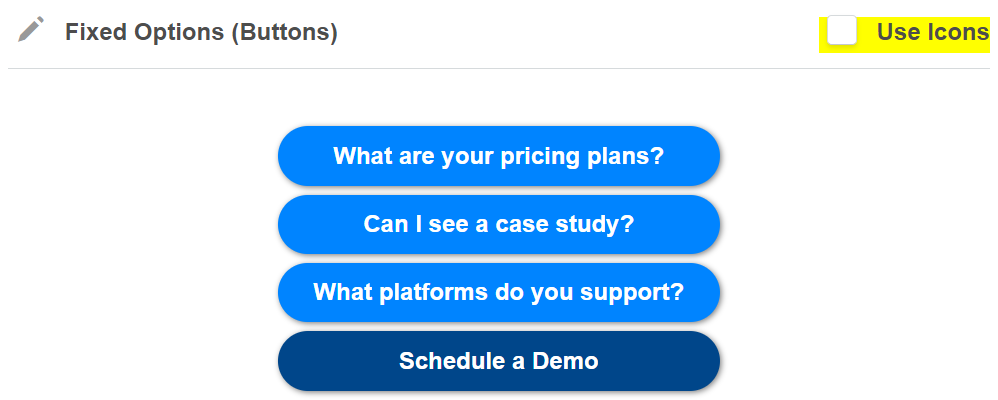 Since this is also going to be a leadgen chatbot, throw in an extra button for users to start the leadgen flow of the conversation. In this example, we're going to let people schedule a free demo.
Once the buttons are setup, rename the Gambit something descriptive (in this case intro), and hit the Save button. The result ought to be something like this: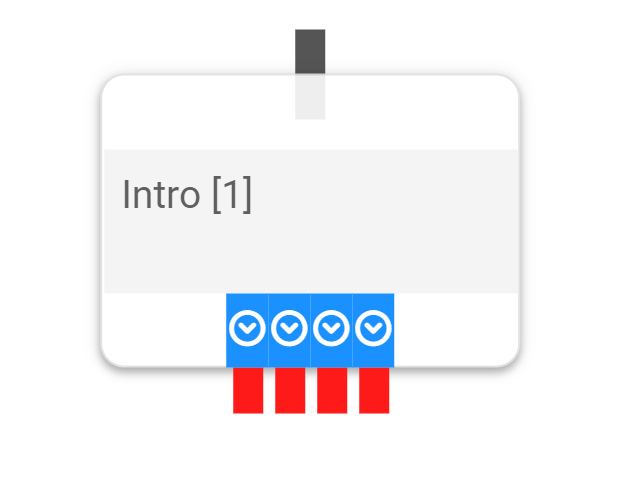 You will now notice that the Gambit now has four red sockets sticking out of the bottom. These sockets correspond to the button options we defined in the gambit. As you will see in the next step, they will allow you to branch the conversation off in different directions based on the user's input
Step 4: Create a second Gambit and connect it to the first
Next, create a second gambit and connect it to the first gambit, by dragging one end to the other, like this: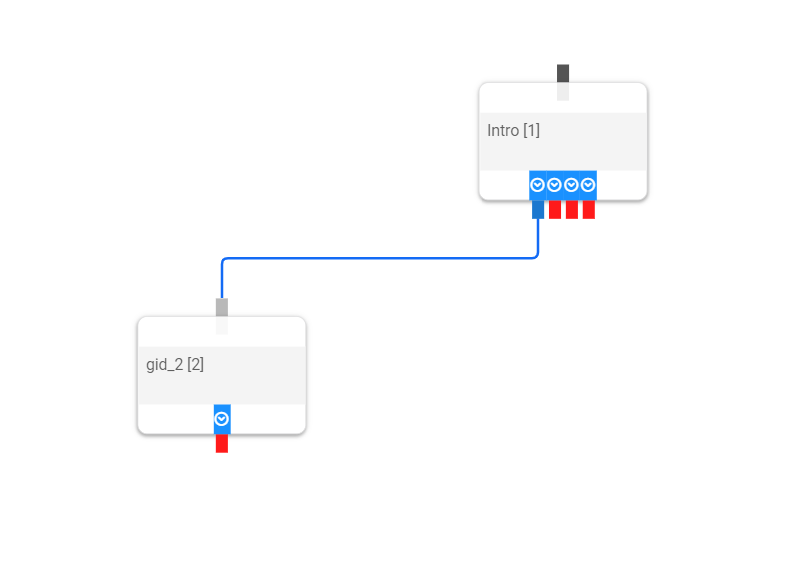 From here on, figuring out the rest of the conversational flow is pretty intuitive. For example: you should fill out the messages in the second gambit such that it responds to the corresponding question that we specified in the first gambit, and so on.
Step 5: Test Your Bot In Preview
Meticulously crafted your entire chatbot flow? Can't wait to test the conversational masterpiece you just created? All you must do then is click on:

And Voila! A preview window will immediately appear on the right side of your screen: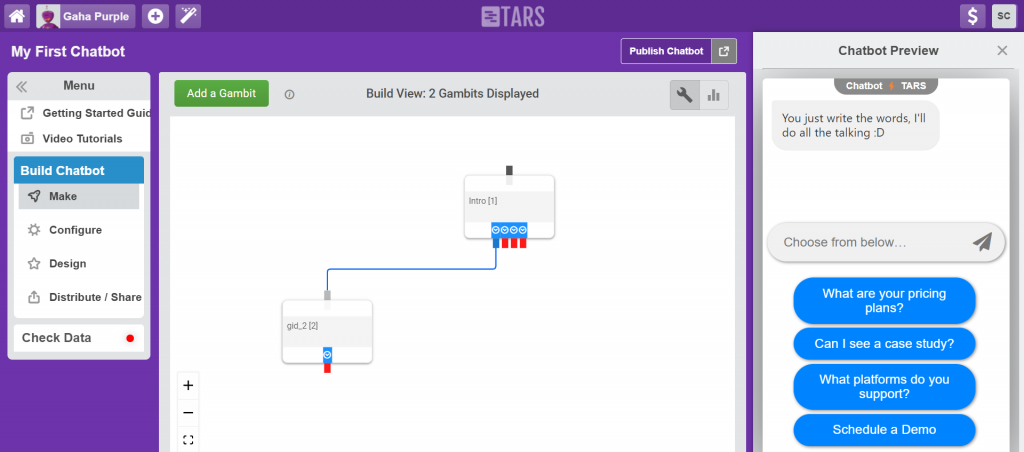 Step 6: Connect your bot to your WhatsApp Business API credentials (Ref: Part 1)
After you are done testing your conversational flow in Preview, click on the distribute section and select the WhatsApp number you want to connect your fresh new bot to. Lastly, hit 'Publish on WhatsApp'.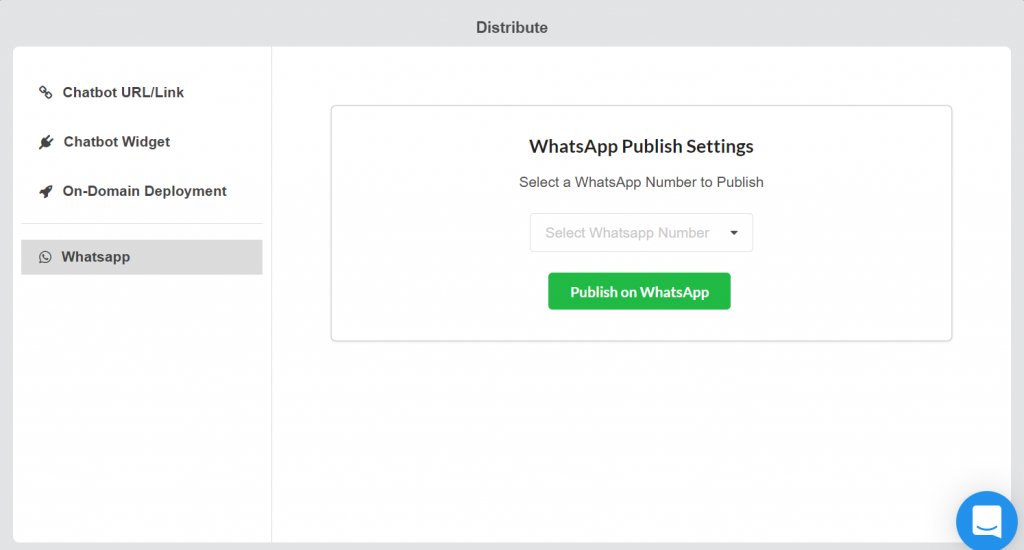 Curious To Learn More About WhatsApp Engagement?
Book a demo with us today and one of our in-house WhatsApp Engagement Experts will personally walk you through the entire process!