Education Chatbots: Benefits, Use Cases & Examples
The Rise of Artificial Intelligence and Educational Chatbots
The introduction of machine learning and artificial intelligence has brought in a revolution in the educational context. Chatbots for education have revamped the entire learning process of an online learning environment, in the sense that they can automate administrative tasks, admission processes, engage students, answer questions of multiple students at once, provide learning materials and personalized feedback and improve student interaction.
Such education chatbots can act as conversational agents whose primary focus is can not only facilitate learning as a digital assistant, giving up to date information to students, accurate answers/instant answers to student questions on lesson plans or a particular course, but can also act as virtual assistants which provide administrative support to students and collect student feedback without redirecting them to multiple online portals. An educational chatbot can make the learning process of students more engaging through its qualities.
An intelligent chatbot for the educational system on a student's preferred platform, such as WhatsApp, Skype, Facebook messenger, with such capabilities can help students learn by conducting online assessments, helping them review material with learning methods, and these NLP computer programs can provide students useful information on library memberships, alumni groups, etc.
Prior research shows that as chatbot technology advances, school chatbot has also been used to keep in check students' mental health.
What are Education Chatbots? Benefits of Chatbots in the Educational Sector.
Chatbots for education allow the education system to communicate effectively with millions of students and support teaching, across multiple student touchpoints. They use Conversational Artificial Intelligence technology to effectively automate lead generation, student engagement, teacher evaluations, assist students and improve learning outcomes. Most impressively — it can do so 24 x 7, at a fraction of the cost of human agents. A university chatbot is a simple widget that higher educational institutions can add to their websites (or web apps) to dramatically improve their student success. Using education bots, these university chatbots can effectively deliver students' enrolment assistance, quick students onboarding, and campus support.
Here's a brief overview of the various benefits that chatbots for higher education offer to universities & colleges:
✅ Increase in Prospective Students Enrollment.
✅ Faster, Engaging onboarding process.
✅ Lower turnaround time, higher student satisfaction.
✅ Round the clock, 24x 7 administrative support.
Chatbots for Education Use-Cases
1. Prospective Students Enrollment Assistant
For any college or university, swift communication is crucial when it comes to converting prospective students into enrolled students. In the lead, up to a new academic year, students are buzzing with questions relating to courses, fees, accommodation, and the like. It's undoubtedly a busy time for admissions departments, and responding to this influx of questions quickly requires a lot of time and resource. Essentially, educational chatbots provide an antidote to this problem. Artificial intelligent chatbots help convert students inquiries into enrolment leads by answering repetitive questions about the admission process, course offerings, resources and financial aid.
2. Engage Students with Quick Student Onboarding
Successfully onboarding students is no mean feat. It requires taking thousands of barely-legal teens and making them ready for the infinite challenges of University life. More mundanely, it involves collecting tons of student data through documents, transcripts, anti-ragging declarations, etc. Traditionally, this process has always been cold and unengaging with students getting frustrated at forms & PDFs. Chatbot technology is about the change that. Admission Teams can now attach onboarding chatbots to their existing email & text messages to new students, thereby increasing student engagement. And not just that! Chatbot technologies can also solve any student issues related to registration and login access to university platforms, and also aid in diversity training — thereby ensuring that each new batch feels safe & comfortable on campus.
3. Campus Support Virtual Assistant
A Campus Support Helpdesk can instantly address all campus-related queries of students: from accommodation rules and upcoming events to Covid-19 updates. In fact, courtesy of Natural Language Processing, students can ask questions in their own words and still get comprehensive support. Imagine the usefulness of student support educational chatbots in times of crises, when parents and students have a truckload of questions that can overwhelm school employees. Such is the case of the 2020 pandemic when schools may slowly reopen and many parents are concerned about the dangers. As students get back to the classroom, questions about health and safety measures, school hours, and protective gear are likely to rise in numbers. And regardless of the pandemic, questions like "Is the school closed tomorrow?" in cases a blizzard hits, will always remain; making a chat-based campus support educational chatbot a virtual necessity.
What is WhatsApp Marketing Software? Benefits Of WhatsApp In Higher Education.
In the public imagination, WhatsApp is viewed (rightfully so) as the most popular instant messaging service in the world. With more than two billion active users — if WhatsApp was a country, it would technically be the most populous one. But what is often overlooked in the public discourse is the incredible technical infrastructure that WhatsApp provides for businesses, to enhance and upgrade their ⤵️
🎯 Lead Engagement: Pre-sale; includes lead generation and lead conversion
🎯 Customer Engagement: Post-sale; includes transactional messages, customer marketing, and customer support.
The technology that enables the automation of these lead and customer engagement processes is called WhatsApp Marketing Software. Example? The Tars WhatsApp Engagement Suite. A WhatsApp Education Chatbot is a chat-based automation solution that enables Ed-tech businesses to provide end-to-end engagement across all student touchpoints — from conversational lead generation to personalized student marketing. They do so by simulating human conversations based on a predefined set of conditions, that Ed-tech businesses are free to determine according to their specific use-case.
Since WhatsApp is primarily perceived as an instant messaging app to communicate with friends and family, WhatsApp Marketing Software (like the Tars WhatsApp Engagement Suite) allows the educational domain to position itself as much more approachable, trustworthy, and personal in all its student interactions. Moreover, WhatsApp Messages have an open rate of nearly 98% and a response rate of nearly 40%! By giving 5x times more visibility and responses than any other channel, WhatsApp blows every other lead & customer engagement channel out of the water.
WhatsApp
Use-Cases In Higher Education
1. Conversational Lead Generation
While every learning platform typically acquires students through omnichannel strategies, their students tend to be most available on WhatsApp. It's here that one-on-one conversations between institutions and students/parents, facilitated by chatbot automation, can be extremely rewarding in terms of quality lead generation. After a lead has been generated, the next task a WhatsApp educational chatbot can execute is lead qualification. Traditionally, businesses used forms to gather information from their users and consequently determine whether they fit their ideal customer persona (ICP) or not. Educational chatbots can collect this information and qualify such leads using a very familiar and intuitive messaging interface.
2. Lead Nurturing & Proactive Communication
The choice of an educational course or an online degree is not just a financial commitment but an extremely personal life decision. This is why every Ed-Tech Marketer knows that student marketing requires extensive re-engagement and lead nurturing. Couple that with an incredible 40% response rate on WhatsApp automation, and you have got yourself a winning formula. Using WhatsApp One-Time Campaigns, Ed-tech businesses can run lead nurturing campaigns that:
✅ Send parents invites, to webinars & orientations.
✅ Share prospectus and other marketing material.
✅ Send reminders about application deadlines
3.
Application, Registration, and Enrollment Tracking
We all know the boring enrolment updates that tend to pile up in our SMS or Email Inbox. They are cold, impersonal, and serve little purpose other than ticking a checkbox in student communication. What if we told you that not only can these enrolment updates be turned into engaging chat-based conversations — but they can also be triggered automatically, straight from your CRM!
That's right, using the Ongoing Campaigns feature in Tars WhatsApp Engagement Suite — your ed-tech business can automatically trigger smart notifications for:
🎯 Application Abandonment Update
🎯 Registration Completion Update
🎯 Enrollment Successful Update
4. Personalized Learning Process
Personalized Marketing is a term that refers to any marketing activity that's aimed at your current customers. In the education sector, it's also called Student Marketing. While channels like Email & SMS have been traditionally used for student marketing campaigns, they tend to have extremely low open rates and non-existent response rates. Where Emails & SMSs fail, WhatsApp shines. Using the One-Time Campaign feature in the Tars WhatsApp Engagement Suite – educational institutes can drive more revenue from their existing customers by sending personalized offers, product launches, discounts, and referral codes to segmented audience lists, and enhancing a student's personalized learning experience.
FAQs
What are the best intelligent education chatbots?
5 best education chatbots are:
✅Part A: Getting WhatsApp Business API Access
Before you can even start thinking about creating your WhatsApp chatbot you need to get access to the WhatsApp Business API.
1. Verify your Business on Facebook: Since WhatsApp is owned by Facebook, they handle their business verification through Facebook's business platform. You can find instructions on how to verify your business through Facebook.
2. Apply for WhatsApp Business API Access: Fill out our WABA Submission Form, verify your phone number with OTP and generate an API token.
3. Add WhatsApp Business Number: In the Admin Dashboard, under the campaign menu on your left, choose 'Business Number' and then fill in the necessary details like Company Name, API Key etc.
4. Create Message Templates: Finally, depending on your use-case, create a message template for your first WhatsApp Campaign.
✅Part B: Building A Conversational Flow
1. Signup for the TARS Chatbot Builder: The sign up process is super simple! All you have to do is go to https://admin.hellotars.com/, fill in a few details and signup for free!
2. Create A New Chatbot: When you first signup for the TARS builder you will be dropped into our templates library. You can use any of the 950+ templates that we have as a base for your chatbot, but in this guide, we are going to build one from scratch so click the Create From Scratch button on the top-right corner of the screen. Once you hit 'create', you will be automatically taken to the 'Make Section':
3. Create A Gambit: To start creating your conversational flow, click the green 'Add a Gambit' button on the top left of the screen. This object is called a Gambit, and it is the basic building block of any conversation. To understand how it works click on it to open up the Gambit Modal. Each gambit is made up of two parts: Bot Messages and User Input. Using these two parts of the gambit modal you can define a single back-and-forth interaction between the bot and the user. Since we're still on the first gambit, go ahead and write the messages in such a way that they welcome the user to the chatbot. Once the messages are complete, you can specify how users can respond to these messages by clicking the Select User Input Type dropdown. We have over a dozen user input options available in our builder, but for WhatsApp, only the text, button, image/file, geo-location, no input, and auto page redirection input UIs are compatible. The most popular input UIs in the TARS builder are text and buttons, so we'll focus on those in this guide.
But before that?
Enable WhatsApp Native UI. For the first gambit of the FAQ/Leadgen bot we are creating in this guide, select the Buttons option and type in all of the FAQs that you want the bot to answer as buttons. Since this is also going to be a lead gen chatbot, throw in an extra button for users to start the lead gen flow of the conversation. In this example, we're going to let people schedule a free demo.
Once the buttons are set up, rename the Gambit something descriptive (in this case intro), and hit the Save button. You will now notice that the Gambit now has four red sockets sticking out of the bottom. These sockets correspond to the button options we defined in the gambit. As you will see in the next step, they will allow you to branch the conversation off in different directions based on the user's input.
4. Create a second Gambit and connect it to the first: Next, create a second gambit and connect it to the first gambit, by dragging one end to the other. From here on, figuring out the rest of the conversational flow is pretty intuitive. For example you should fill out the messages in the second gambit such that it responds to the corresponding question that we specified in the first gambit, and so on.
5. Test Your Bot In Preview: Meticulously crafted your entire chatbot flow? Can't wait to test the conversational masterpiece you just created? All you must do then is click on Preview.
6. Connect your bot to your WhatsApp Business API credentials (Ref: Part 1): After you are done testing your conversational flow in Preview, click on the distribute section and select the WhatsApp number you want to connect your fresh new bot to. Lastly, hit 'Publish on WhatsApp'.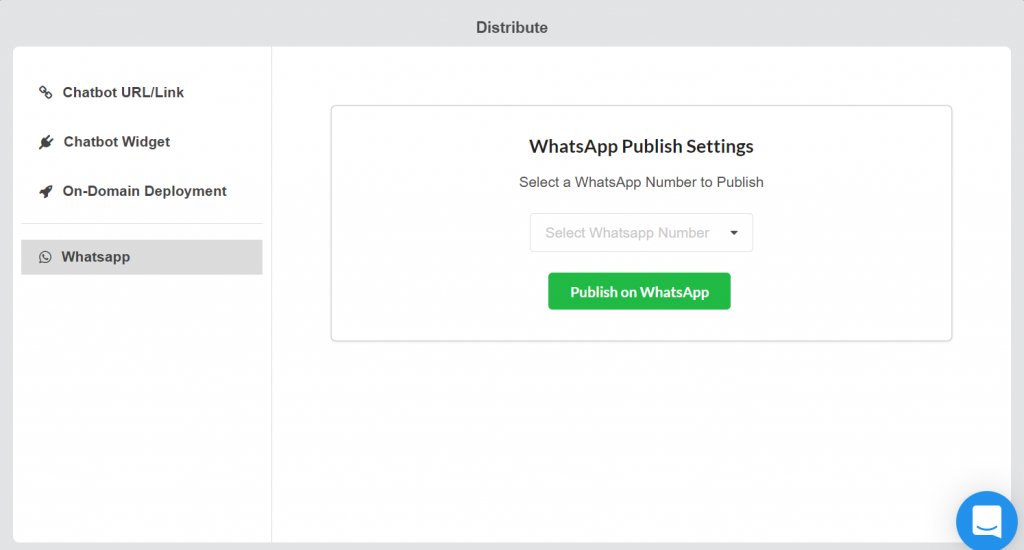 Curious To Learn More About WhatsApp Engagement?
Book a demo with us today and one of our in-house WhatsApp Engagement Experts will personally walk you through the entire process!