Founded in 2010, Save Max International Inc. (Save Max) is an iconic Canada-based Real Estate brand, with a team of 700+ Realtors and a franchise network of more than 60 offices in Canada and India. In just over a decade, Save Max has crossed over $10 Billion in transactions by combining disruptive business strategies with the good old Canadian values of compassion, generosity, and versatility.
Built on an aggregator-brokerage model, Save Max Canada's value proposition is clean & simple — turn buying, selling & renting properties into a breezy customer journey using the latest technology & disruptive business practices like 👇🏼
A flat $999 listing fee, regardless of deal size.
A unique franchisee model for non-licensed investors.
On the spot realtor commissions when deals are signed.
All of these innovations were introduced for a singular purpose: to disrupt the notoriously traditional real-estate industry by giving clients what they actually want: a quick, affordable, fuss-free and transparent customer experience (CX).
Today, that automatically translates to a digital journey par-excellence for every lead that's tired of waiting at grubby little agent offices with deceptive listings and long transactional delays. This is especially true of Millennials and Gen Z — generations that have adopted Amazon Prime's 24-hour delivery and Netflix's unlimited streaming options, almost like a creed. Put simply, they expect the best.
Which bring us… to us! In Save Max's quest of providing a superior customer experience (CX) they ran into Tars. Here's the fascinating story of how Save Max Canada used a Chatbot Agent powered by Conversational AI, to generate 1000s Of Leads ⤵️
How Has Real-Estate Discovery Changed
Buying or selling a home has typically been a life-altering decision for most individuals — both financially and emotionally. Everyone wants to get it right, and the consequences of getting it wrong can be downright disastrous. That's why finding the right real-estate deal is on top of every customer's priority.
Historically, human agents have been critical in this real-estate discovery process. By providing vital information relating to listings, amenities, prices and mortgages — human agents have helped countless individuals make an informed choice, based on their personalized real-estate needs.
Its critical we understand why these human agents worked for a long long time. Real Estate customers needed guided expertise, and a thorough understanding of their property requirements — and human agents played that role marvellously.
But this conventional discovery process had three major flaws:
🎯 It relied on leads either calling or physically walking in to real-estate brokerage offices.
🎯 It was slow & inefficient beyond small brokerages, with high-intent leads.
🎯 It didn't work round the clock, 24×7.
As you might have noticed, this isn't how we buy or sell houses anymore. The world has moved on, with the pandemic accelerating what was already a predominant trend: digitization in the real-estate sector.
Today we hunt online for houses to buy or rent, with our first stop being giant real-estate listing websites, run by different brokerages. We binge-browse at 2 a.m. through hundreds of listing at a time, hoping that we're just a click away from our dream home. In 2020, some buyers even purchased their homes without stepping a single foot inside!
While this digital real-estate discovery has brought with it a whole host of benefits (like searching for million dollar condos in your pyjamas), it's created a rather 21st century problem for customers: too many choices.
Why Save Max Needed A Chatbot Agent
This is the first banner one sees when they open the official Save Max Canada Website 👇🏼

140,000? That's a lot of listings.
Suppose you want to narrow down the search to just Toronto. Even then we're left with over 7000 properties to choose from!
If this was a physical brokerage office, this is where a human real-estate agent would have come in; noted your personal details; understood your exact budgetary, locational and other requirements; and then presented you with a bunch of relevant options. Simply put, the human agent would help you cut through the noise and get you where you need to be.
Unfortunately, in the digital age, this is simply not possible. Consider these two trends from a 2017 study 👇🏼
Today, the average real-estate buyer is 2.4 times more likely to buy a property online rather than in person.
Today, 99% of millennials search online to get information about homebuying.
And that's not all. Save Max doesn't just get home buying enquiries. They also frequently receive listing, franchising and other enquiries from various prospects.
Without a real-estate agent explaining the various options and personally guiding the customer journey, Save Max realised that they were losing thousands of potential leads. Unless they were willing to spend a fortune on an entire army of realtors, what they needed was a digital solution that could accomplish the following 👇🏼

🤖 Conversationally capture lead data from website visitors (and send to a CRM)
🤖 Collect information about real-estate requirements from leads.
🤖 Automatically guide leads through Home Buying / Listing / Renting process.
In other words, what Save Max Canada needed was a Tars Chatbot! Using chatbot automation, Save Max could not only accomplish all of the above, but also bring back that friendly & conversational vibe to the real estate customer journey.
How Save Max Canada Used A Chatbot Agent
Step 1️⃣: Once a potential lead lands on the Save Max Canada Home Page, they'll see a chatbot widget on the bottom right 👇🏼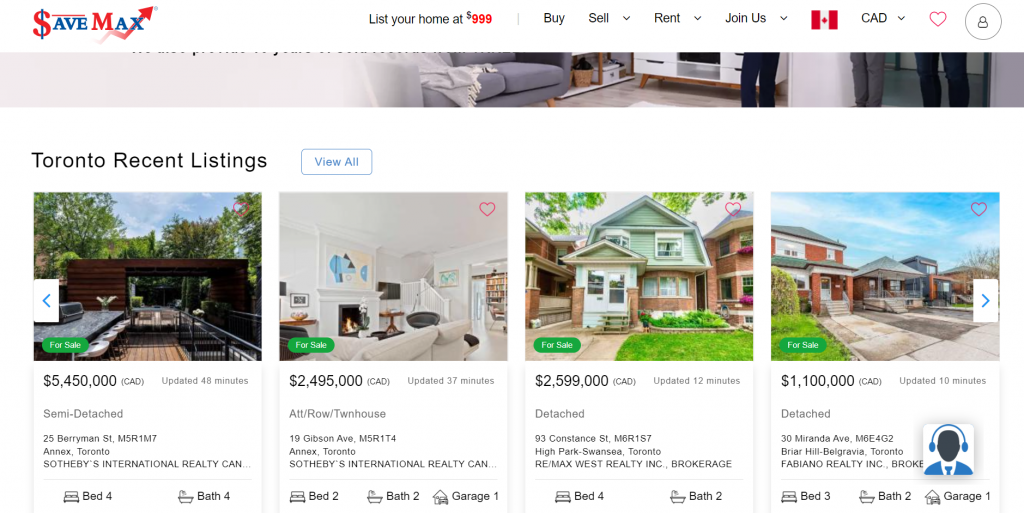 Step 2️⃣: Once a lead clicks on the chatbot widget, they are greeted with an initial message and then presented with the following options 👇🏼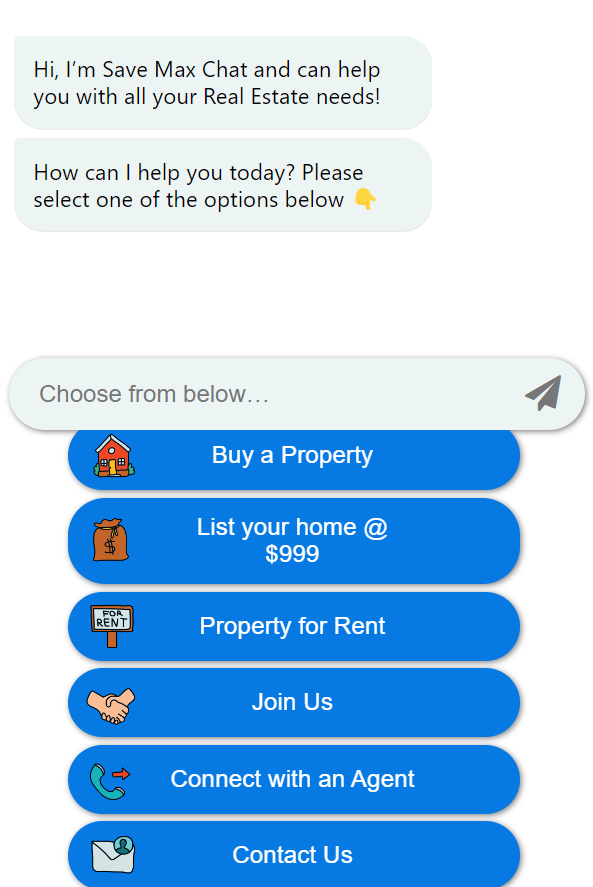 Step 3️⃣: Suppose the user wants to 'Buy a Property'. Once they click on the 'Buy a Property' button, the chatbot starts its lead generation flow. First it asks first for the lead's contact number, then their email address and then their name 👇🏼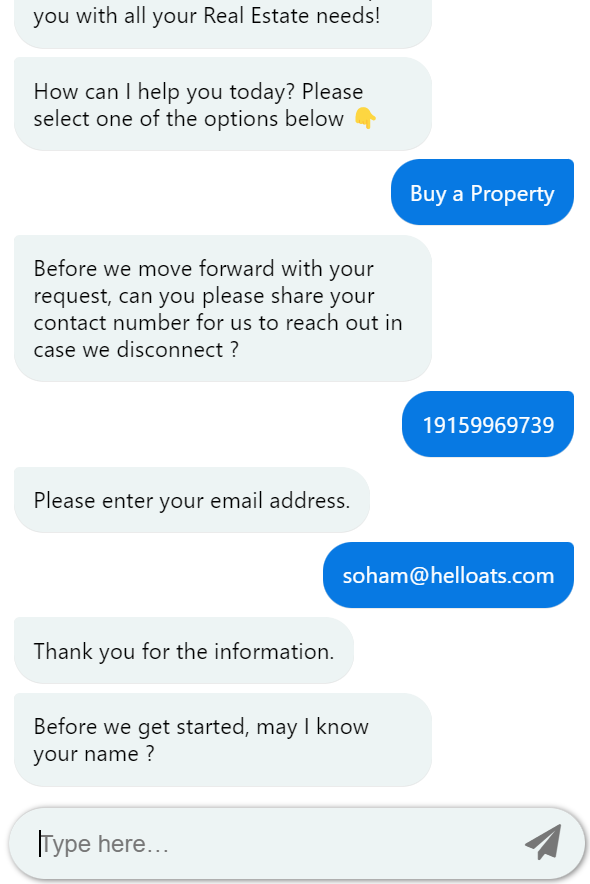 Step 4️⃣: After capturing the lead generation data, the chatbot moves into a lead qualification flow. First, the agent asks how the user would like to search for the property, with the following options 👇🏼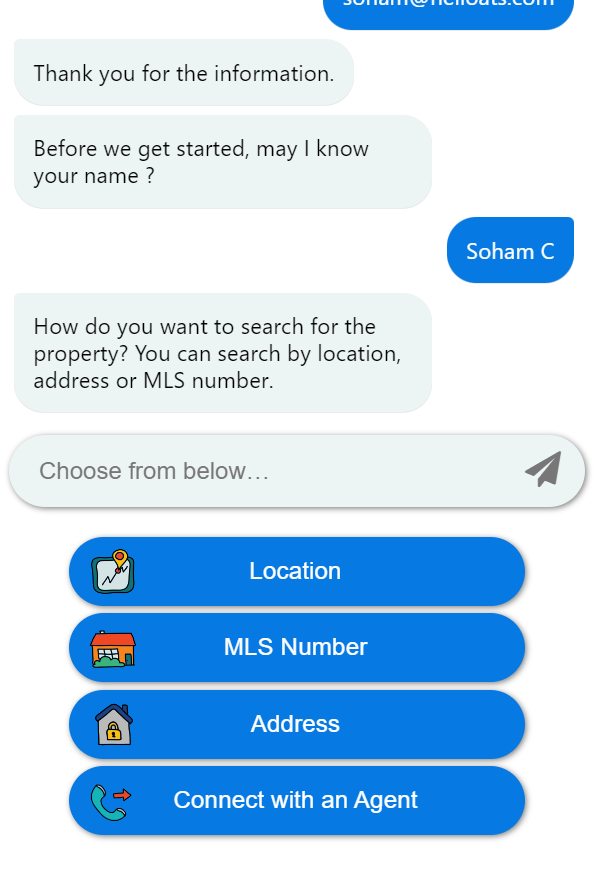 Much like filters on a search function, the first three options (namely 'Location', 'MLS Number' and 'Address') allow user to narrow down their search, according to their preferences.
Step 5️⃣: Suppose the user decides to search by Location. The moment the user starts typing letters, the bot auto-suggests multiple locations whose names include those letters, like this 👇🏼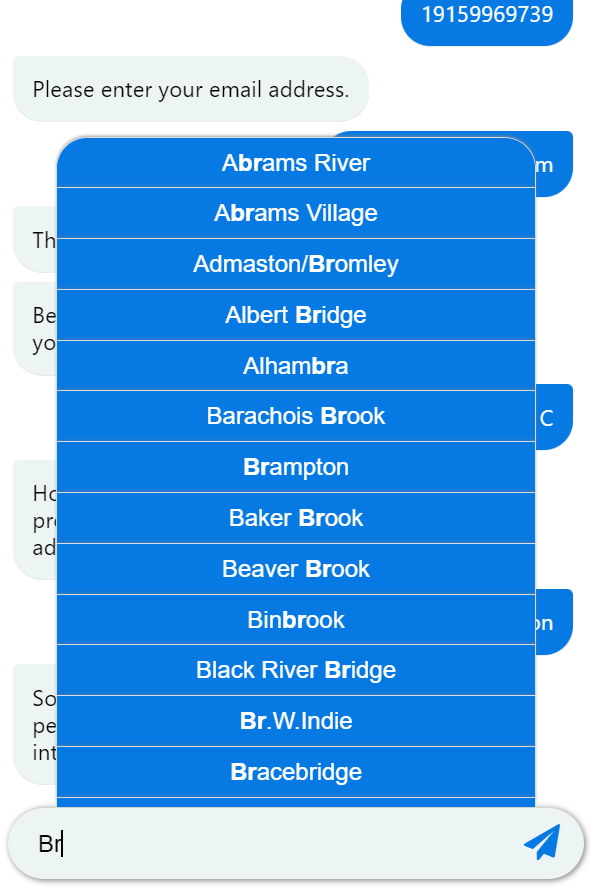 Step 6️⃣: Next, the chatbot tries to further qualify the lead and get a better understanding of their budget, by presenting the following options 👇🏼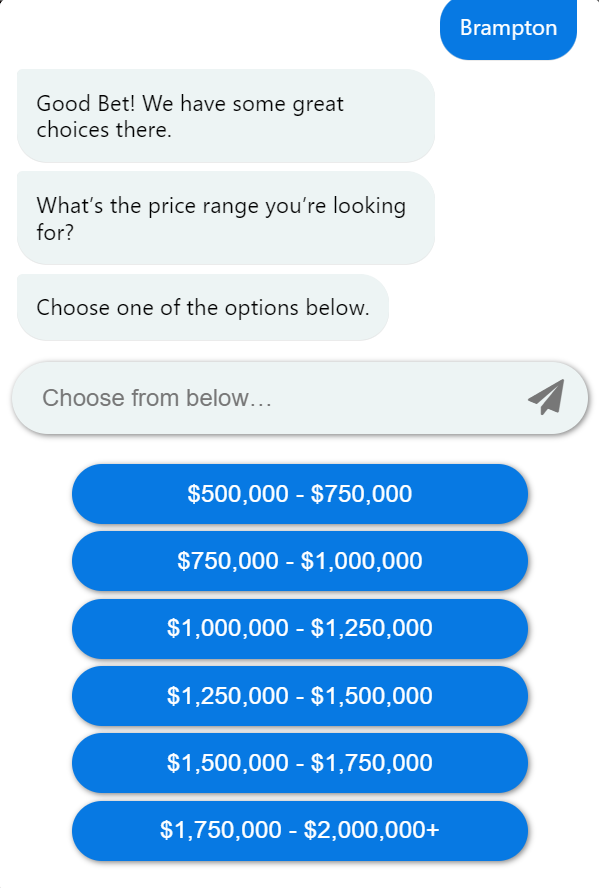 Step 7️⃣: Once the user has selected a budget range, say $1.25m – $1.5m, then the chatbot requests the lead to share their preferred number of bedrooms in their future house 👇🏼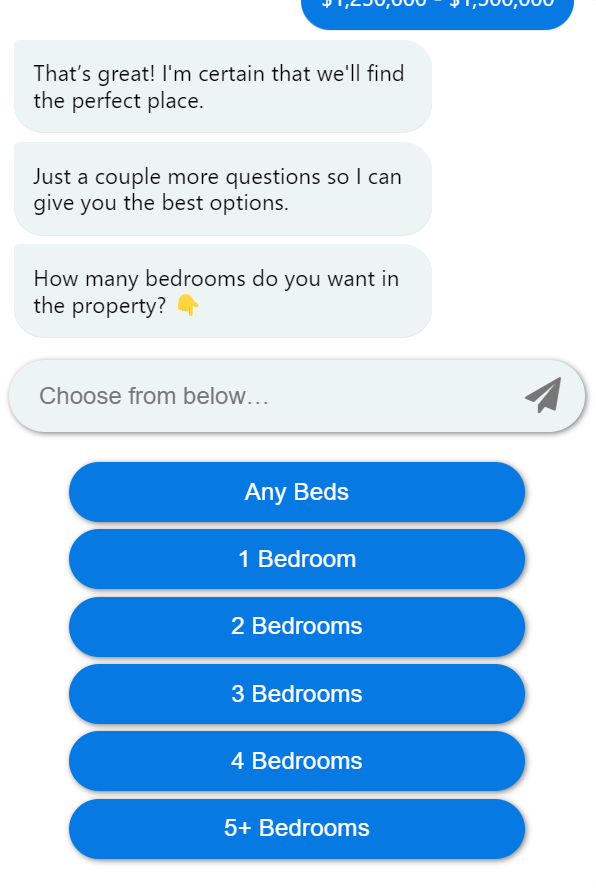 Step 8️⃣: Once the user specifies how many bedrooms they would like, the bot further requests the type of property that the user's looking for 👇🏼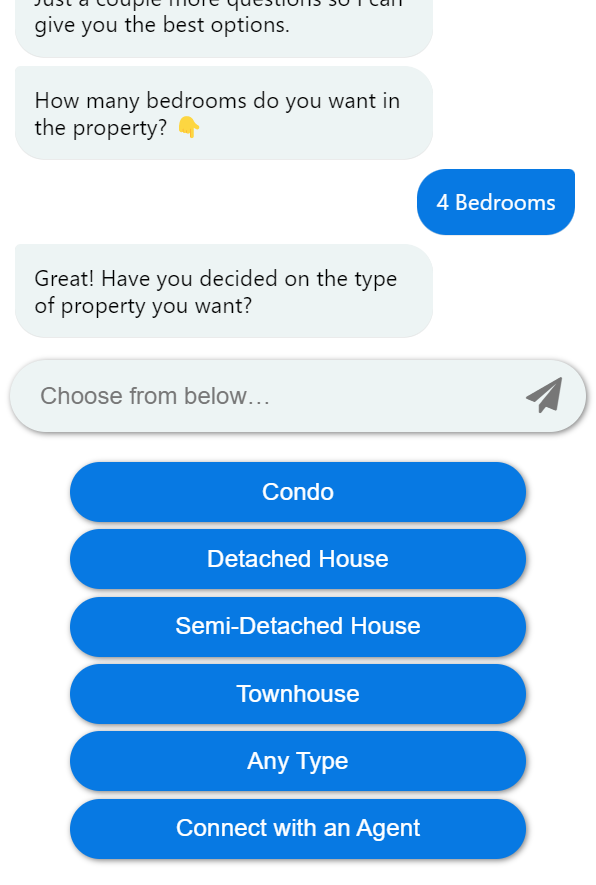 Step 9️⃣: Finally, the bot gets into its Lead Conversion stage of the conversational flow. Now, the lead is presented with the following properties (as separate cards) based on their requirements 👇🏼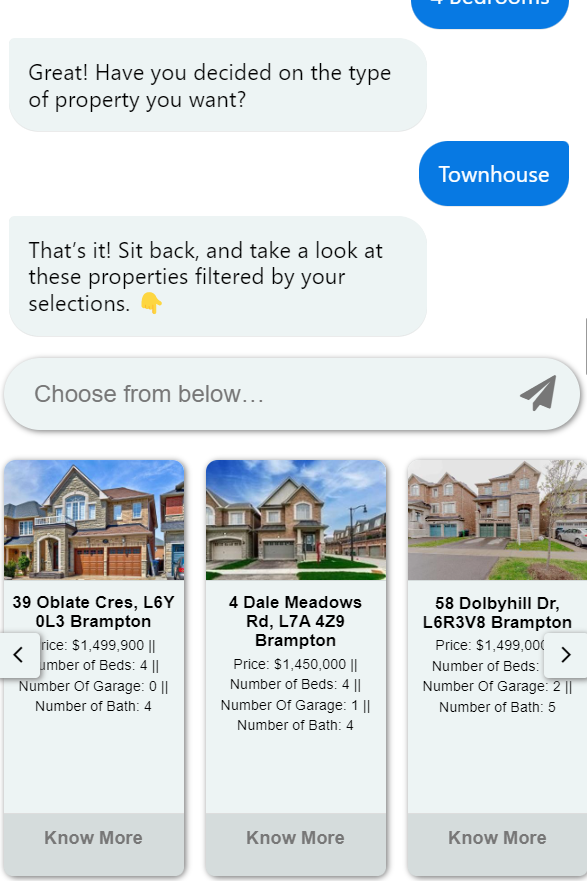 Step 🔟: Suppose the lead is interested in the first property option. Once they click on the card, the lead will receive a bunch of quality pictures of that same house, with the options of either viewing the full listing, booking a showing or returning to browse other properties👇🏼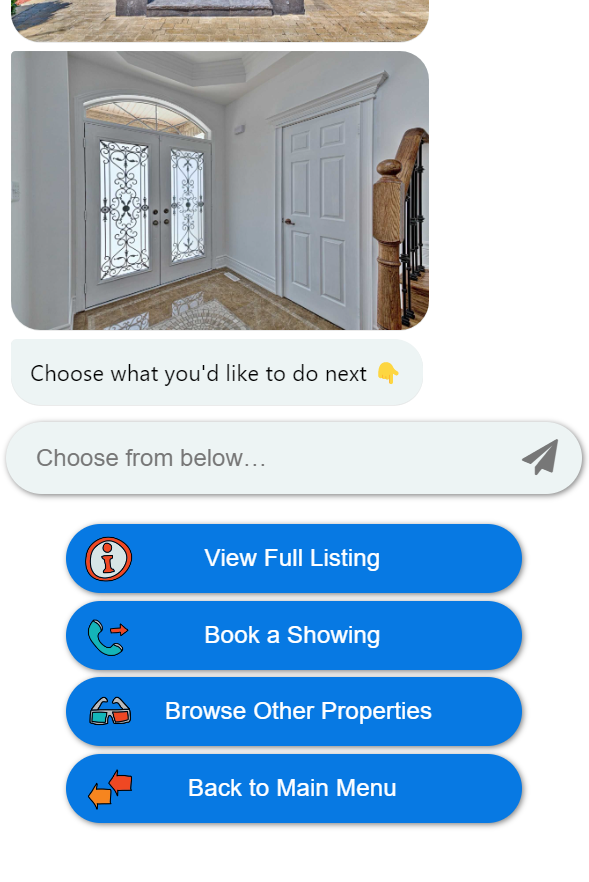 What Was The Impact Of The Chatbot Agent?
Chatbots had a terrific impact on Save Max Canada's customer experience (CX) and lead generation! By using a chatbot as a Virtual Real-Estate Agent, Save Max managed to generate over 1000s of leads, with an incredible response rate of 62%.
How To Get Started?
Book a demo with us today and one of our in-house chatbot experts will personally walk you through every feature of Tars!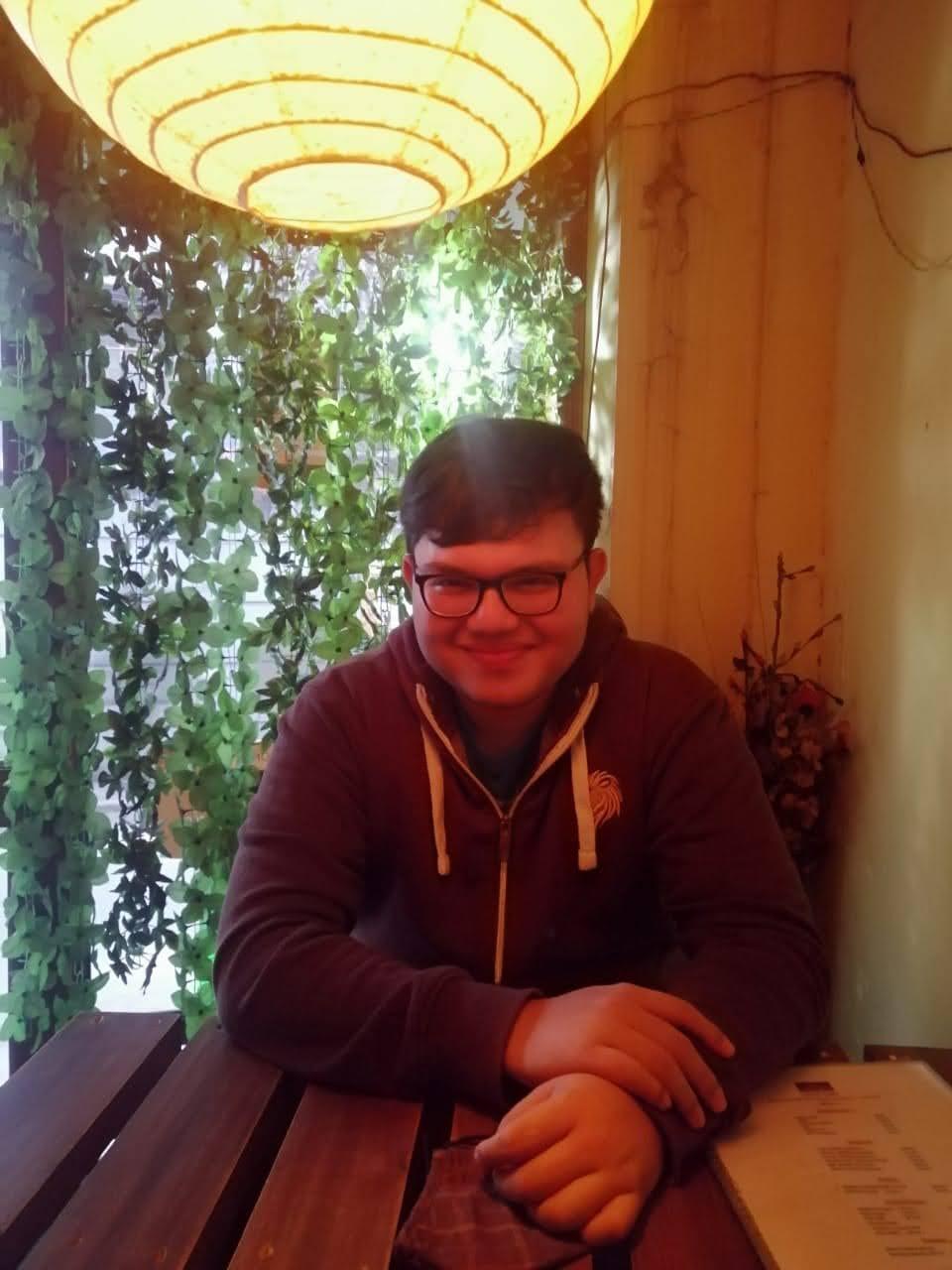 Soham is a content marketer on the Tars team. When he's not writing kickass blog posts like the one you just read he's reading obscure articles from history's foremost anti-enlightenment thinkers and writing treatises to send to his 3 substack subscribers.