Bloom IVF Group is India's largest group of In-vitro Fertilization centers. Their expansive network of clinics consists of 9 full-fledged IVF centers, 4 fertility centers, and 5 affiliate centers. Since their founding in 1991, they have emerged as the premier global provider of fertility, IVF, and assisted conception treatments, and have delivered their service to over 25,000 patients, including many who travel to India specifically for their services. A significant contributor to Bloom IVF's success thus far can be attributed to their industry-leading marketing efforts. In recent years, their digital marketing efforts in particular have emerged as a growth engine for the company bringing in a consistent stream of new patients at a cost-effective price. We spoke with Ojaswini Kapoor, Bloom IVF's VP of Marketing & Administration about how her team runs this marketing machine and how chatbots help them do their job better.
Bloom IVF's Marketing Strategy
To generate demand for their services, Bloom IVF uses three digital marketing channels: Google Ads, Facebook Ads and SEO-driven organic traffic.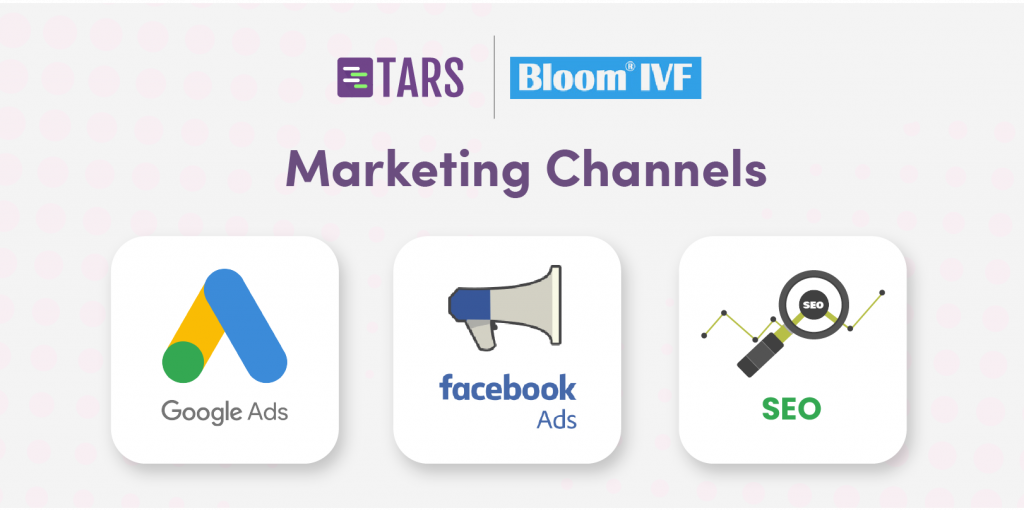 Traffic from these channels is directed to the company's website, which contains a standard set of information aimed at convincing the user to choose Bloom IVF for their IVF, fertility and contraception needs: information about the company, its offerings, the procedures, etc.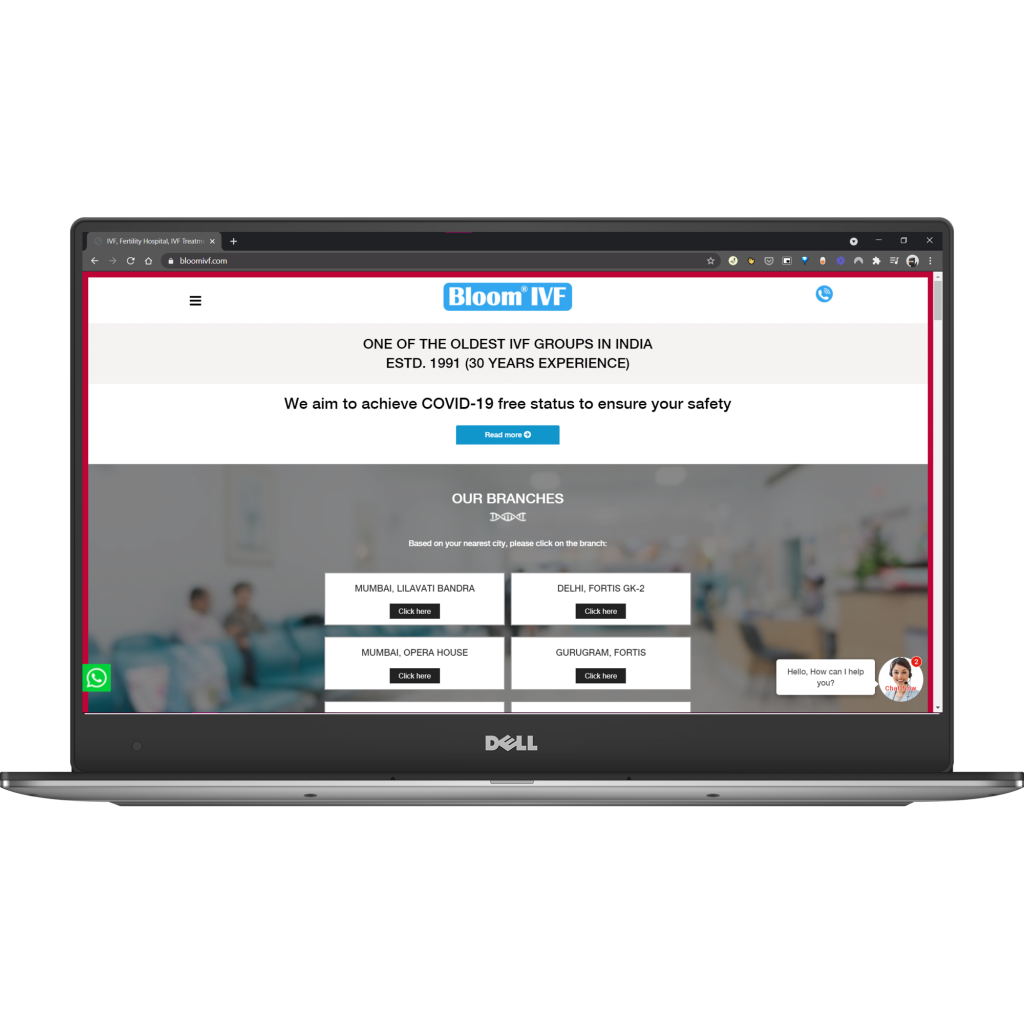 Perhaps most importantly, the website also contains an appointment booking method for prospects to book a consultation with a Bloom IVF doctor to discuss their requirements further. In the past, this appointment booking method was a click-to-call CTA that required prospects to speak with a member of the Bloom IVF staff to book an appointment, and as we'll discuss in this case study, this method has in large part been replaced by a Tars chatbot that books the appointment over an automated chat.
The Advantages of Click-to-Call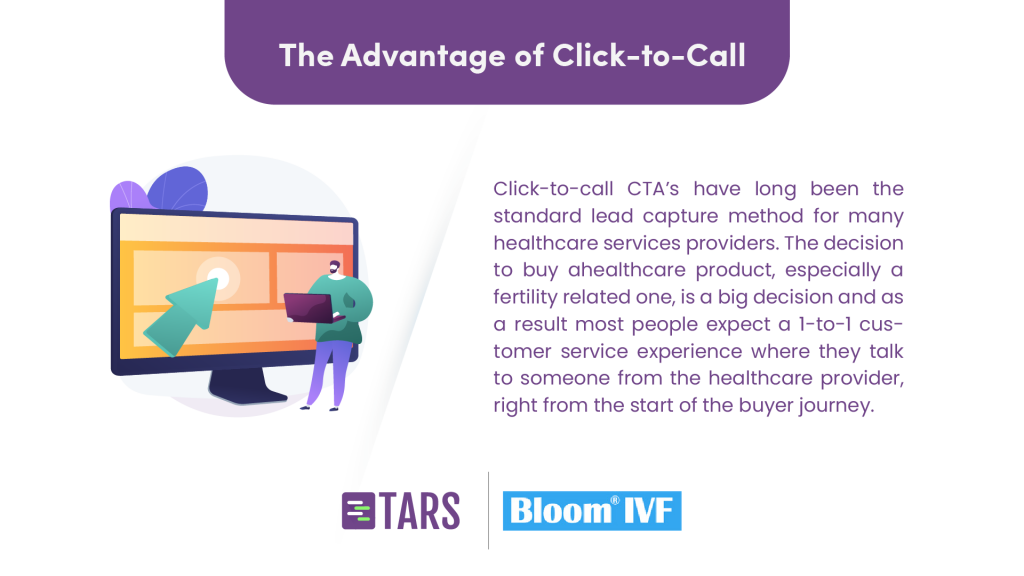 Click-to-call CTA's have long been the standard lead capture method for many healthcare services providers. The decision to buy a healthcare product, especially a fertility related one, is a big decision and as a result most people expect a 1-to-1 customer service experience where they talk to someone from the healthcare provider, right from the start of the buyer journey. Click-to-call CTAs provide that experience. Even though the person on the other end of the call isn't a medical professional (Bloom IVF's customer service team generally handles calls), the existence of a person on the other end of the line provides a level of reassurance that prospective patients want and that self-serve appointment widgets don't.
The Disadvantages of Click-to-Call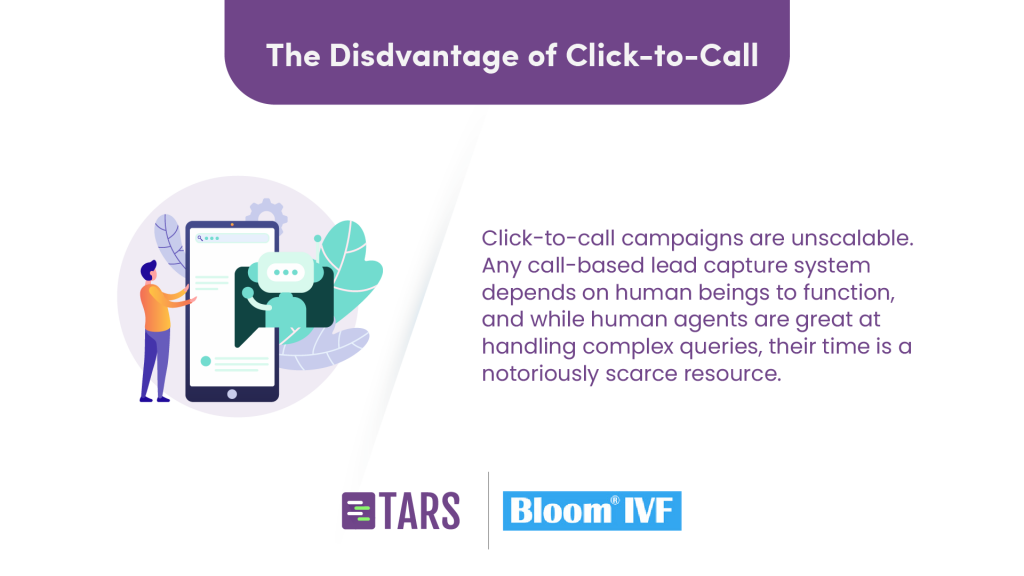 Unfortunately, even with all of these benefits in mind, click-to-call campaigns are un-scalable. Any call-based lead capture system depends on human beings to function, and while human agents are great at handling complex queries, their time is a notoriously scarce resource. Human agents can only handle one call at a time, often have dozens of other tasks on their plate more complex than booking an appointment (this is especially true for smaller teams), and most significantly, can only operate during standard business hours. Inevitably, a purely human-driven lead generation approach results in wait times (usually at peak buying hours), lost productivity (as agents waste their time walking customers through simple tasks that don't really need their expertise), and worst of all lost business (from prospects who can't connect with an agent outside of traditional work hours).
Chatbots As A Solution
To address their issues with call-based system, Bloom IVF needed a solution that could maintain the level of trust associated with conversational lead capture while reducing the cost associated with a human-centred operation. The tools that fit these requirements were chatbots.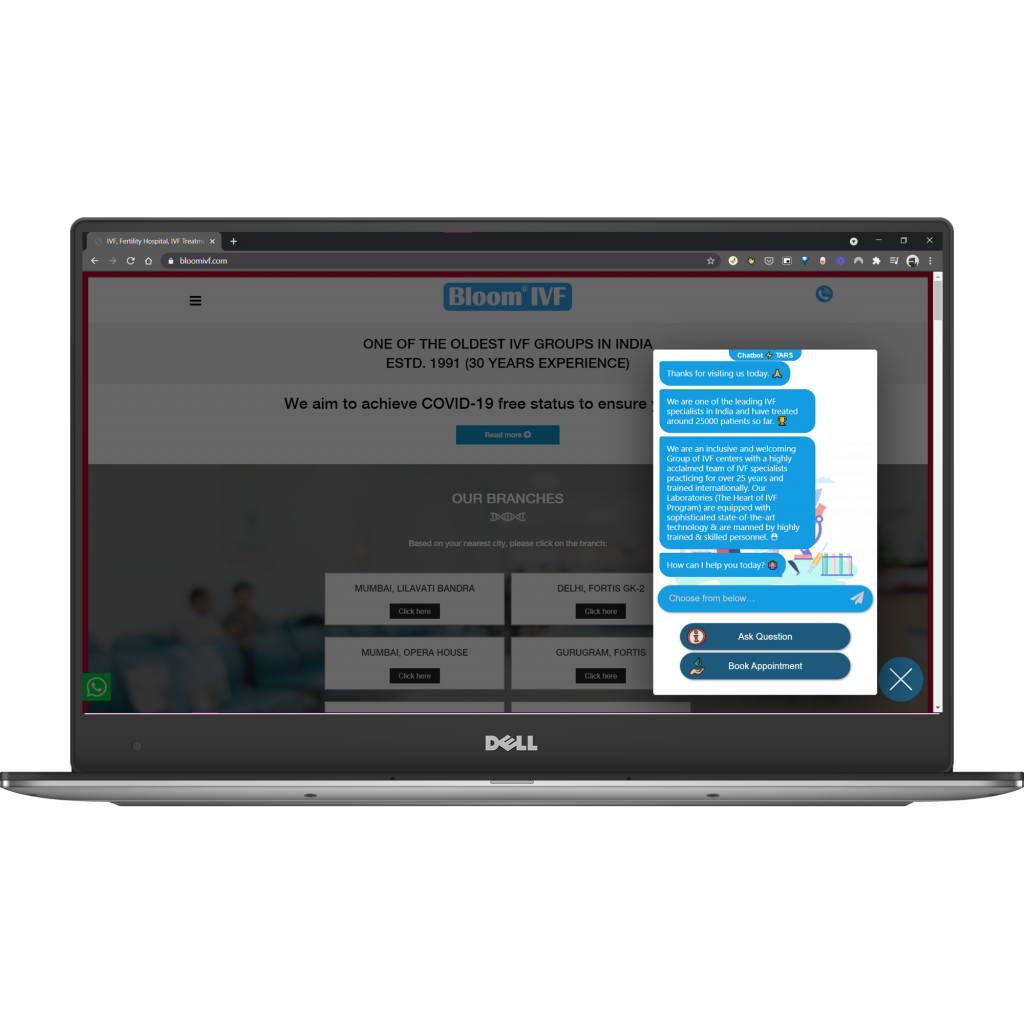 Chatbots are automated customer service reps. Instead of speaking with prospects over the phone, they chat with them over a familiar text-based interface that you might otherwise see in popular apps like WhatsApp, iMessage and Facebook Messenger. Even though they rely on typed text as their medium of communication, they maintain the conversational experience that healthcare prospects want in the lead generation experience. Of course, they do so without human assistance, since they're automated. In other words, they offer all the benefits of phone based lead capture without any of the drawbacks. With this in mind, Ojaswini and her team used the Tars no-code builder to create a lead generation chatbot that helps prospects book an appointment with Bloom IVF's staff.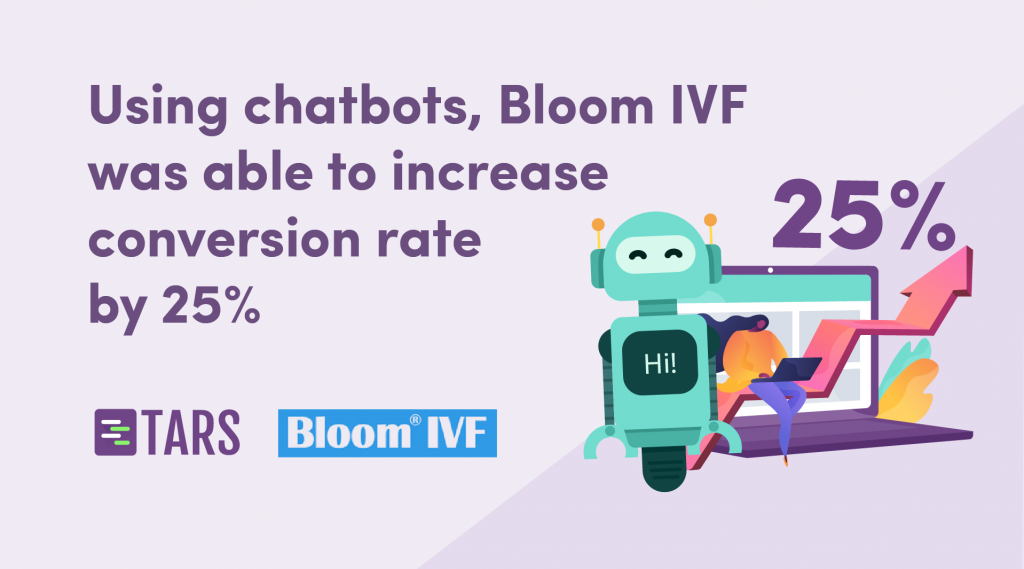 This chatbot is deployed to the Bloom IVF website as a widget where it supplements their regular click-to-call CTA but is available 24×7 and has no wait time associated with it. This added availability has helped Bloom IVF increase the number of bookings it receives each month by a staggering 25%.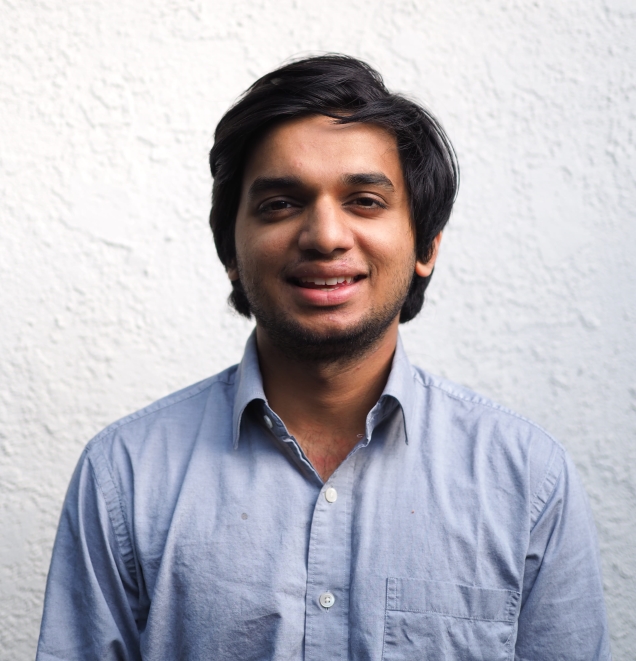 Arnav is the Director of Content Marketing at Tars. He spends most days building bots, writing about conversational design and scrolling through Giphy's trending section looking for the gifs that go into the Tars Newsletter.