The DMV is notorious for its terrible customer experience, and one bot creator in Montana, Levi Worts, set about changing that by creating one of the largest and most effective government chatbot customer service systems in the world.
We spoke to him to get an insight into the sort of value that the Montana DMV and its citizens are getting out of their TARS chatbots.
About Levi…
Levi works with the Montana Department of Justice's Motor Vehicle Division (i.e. the DMV) as a Public Information Specialist. He joined the TARS community about two and a half years ago, when he had the unique opportunity to overhaul the Montana DMV's online customer service experience using chatbots.
Levi's Deployments
Two of Levi's most used/successful deployments are the Montana MVD BEN system, and their Real ID conversational website project. Here's a breakdown of each:
MVD BEN System
If you go to the Montana DMV's main website today (https://dojmt.gov/driving), you will notice that their chatbot named BEN (for Bot Enhanced Navigation System, has prime placement on the website.

As Levi puts it, this bot's job is to guide people to the services they need and then quickly and efficiently step them through how to avail of those services (e.g. what documents they need to bring to the DMV, what forms they need to fill etc). The underlying philosophy that Levi used while creating the bot was that people don't like being on government websites, so his aim was to get them to the resources they needed as quickly as possible
This bot solved two problems for the DMV.
First, on the citizen side, it improved customer experience, making key information considerably more accessible than it was before when the department relied wholly on the traditional text-filled pages that you are accustomed to seeing on a government page.
Second, on the government employee side, the chatbot filled a resource gap in the department. Before deploying the bot, the primary way for customers to get their queries answered was through their call center, and as is often the case in government, a perennially understaffed team was constantly bogged down with overflowing lines and long wait times (up to 2 hours in some cases). By automating, many of these queries, the bot was able to reduce the number of people calling in and helped the call center employees serve citizens better.
Till date, the BEN system has had 400,000 interactions which is about 40% of the state's total population (1 million) and 50% of its driving age population (800,000). It has also resulted in a 15% drop in call volume as well as a drop in call wait time in their vehicle services bureau from 2 hours before the bot to 2 minutes today.

Real ID Campaign
For the uninitiated, Real ID is the name given to a new type of secure, federally mandated license in the United States, that will be required to conduct basic tasks like providing ID for domestic air travel. In Montana, the state made Real ID licenses optional meaning that it fell on the DMV to actively go out and market the program to citizens, a task that governments are traditionally pretty terrible at.

As a Public Information Specialist, Levi was tasked with creating an engaging online presence for the program that could be used to spread awareness. After his success with the MVD BEN system, he decided to adopt a conversational approach for this website as well. Like with the main MVD website, the RealID site (https://mtrealid.gov/) has an always available chatbot agent in the corner of the site.
This bot serves as the ultimate salesperson for the RealID license. It gives users necessary information about the program (e.g. benefits, document checklists etc.), helps them calculate the cost for partaking in the program using a custom-built calculator system within the bot's conversational flow and perhaps most interesting of all, interacts with the traditional site elements to create a seamless user experience that makes it easy to consume all of this information.
The end result was that Montana has been one of the leading states in Real ID adoption across the US.
The RealID bot has had over 60,000 conversations and boasts an interaction rate of 60%
Dealing With A Diverse User Base
Working at the DMV, Levi had the unique challenge of making his bots accessible to a user base that differs in age and background considerably (e.g. DMV deals with everyone from an 18-year-old to an 85-year-old). According to him, the key to successfully achieving this is relentless repetition.

As he put it, in his initial pass at the bot, he over-wrote, adding as much info (and even jokes) in the flow as possible. After this, like any good writer, he spent 3 months cutting and chopping the copy till it was finally ready for primetime.
Of course, as he is keen to point out to us, his creation process does not end after the initial deployment.
A key feature of his bots is that they capture user feedback on each of the conversations that they have. Using thousands of reports, Levi tweaked the bot to better meet the needs of the users
Value of the Bots Summarized
Levi delivered value to the State of Montana and it's citizens in three ways using chatbots:

Improved Citizen Experience- TARS chatbots helped citizens navigate the complex information hierarchies of boring government websites in a frictionless way. Rather than trawling through text-heavy pages to find the info that they need, the bot would take them directly to the resource/service that they need to minimize the amount of time they spent on the website
Filling in Resource Gaps- TARS chatbots helped automate many of the repetitive queries that the department was getting and as a result reduced the burden on an overworked call center. The end result was less call volume and shorter wait times
Helping improve Government Communication- By communicating information in a more engaging manner, TARS chatbots helped the State improve its ability to "market" its initiatives better to its citizens

Favorite TARS Features
To conclude our discussion, we asked Levi what his favorite features in the TARS builder were and he told us about two:
API integration Feature
The custom calculators in Levi's bots delivered immense value to the state, as they were able to give citizens custom quotes on their Real ID licenses before they came into the office, thus improving transparency and reducing frustration in the process. These calculators were only possible because of TARS' versatile API integration feature, which lets you send data to and pull data from any service on the web through http requests.
Custom Input UI for Feeback Collection
At the core of Levi's ability to deliver a good user experience was the feedback that he collected from users as they used the bot. This feedback informed his bot creation process and helped him make adjustments to the flow that met the diverse needs of his user base. The custom input UIs along with the general flowchart structure of TARS bots are what allowed him to collect this feedback in a frictionless way. Within a few messages and a couple of screen taps, citizens could tell Levi exactly what they liked and didn't like about his bot experience.
Interested in being interviewed on an episode of TARS conversations?
Reach out to Arnav at arnav@hellotars.com and we'll set it up.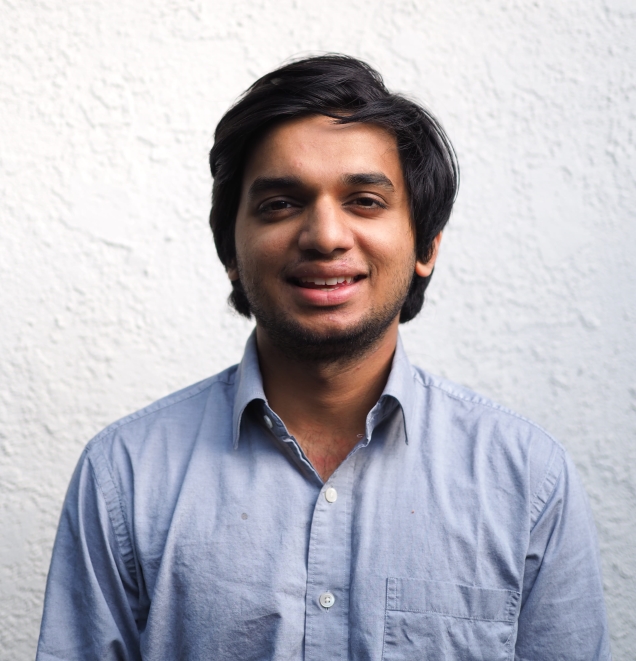 Arnav is the Director of Content Marketing at Tars. He spends most days building bots, writing about conversational design and scrolling through Giphy's trending section looking for the gifs that go into the Tars Newsletter.