Shaping the future

of customer experience and employee productivity with

Conversational AI
Shaping the future

of customer experience and employee productivity with

Conversational AI
We bridge the gap between complex technical processes and intuitive conversations. Our Conversational AI transforms frustrating IVR loops and cumbersome workflows into simplified dialogues. Transforming businesses, empowering growth
$500K
annual savings using a chatbot
66%
customer service conversations automated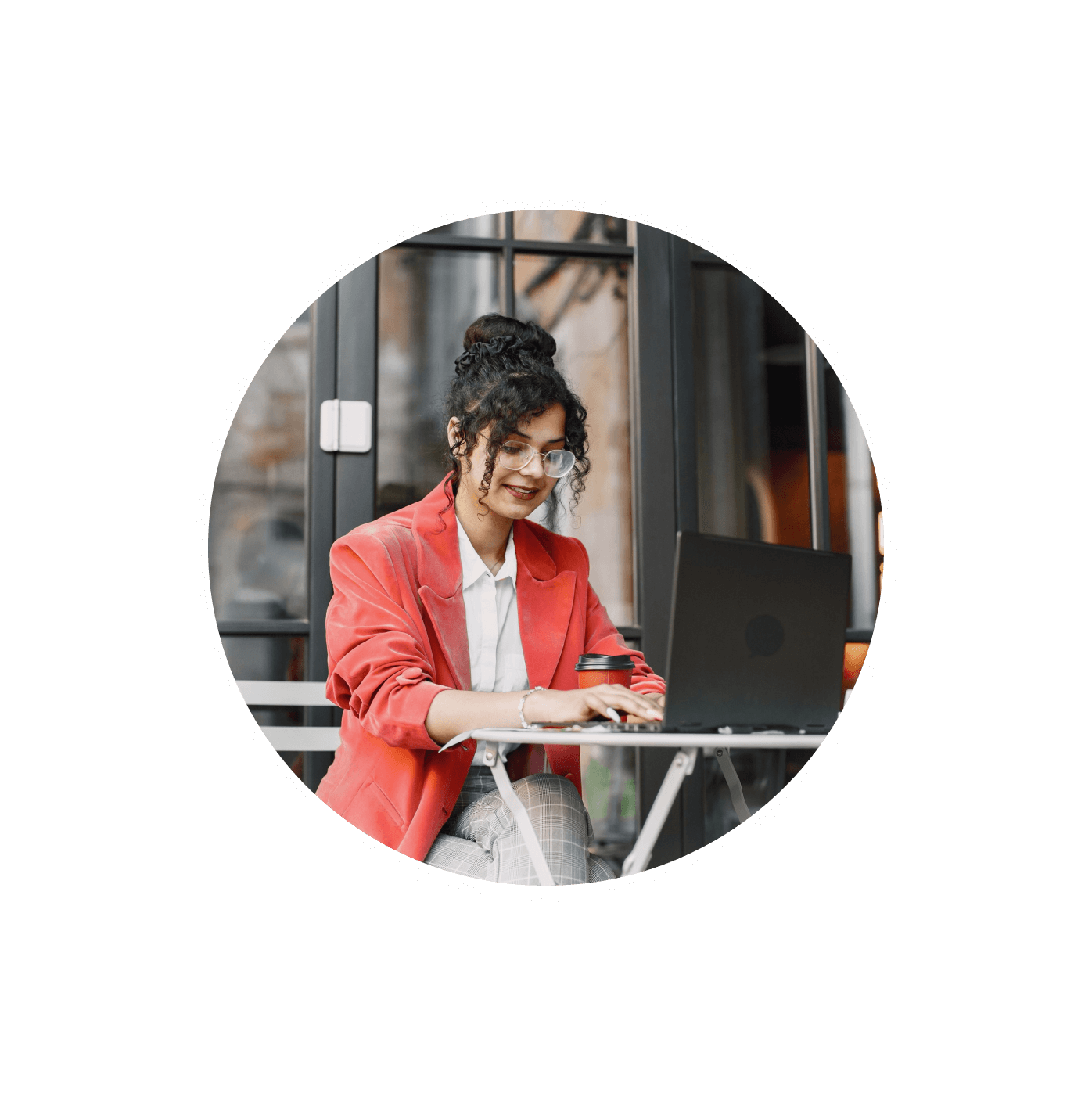 40%
Customer Conversations converted Into Business Opportunities
25%
of credit card sales using Tars chatbots
Interested in weaving these numbers into your enterprise's success story? Our team is here to show you how, let us talk.
Chosen by 700+

global brands

across

10+ industries
Chosen by 700+

global brands

across

10+ industries
With Tars
intelligent automation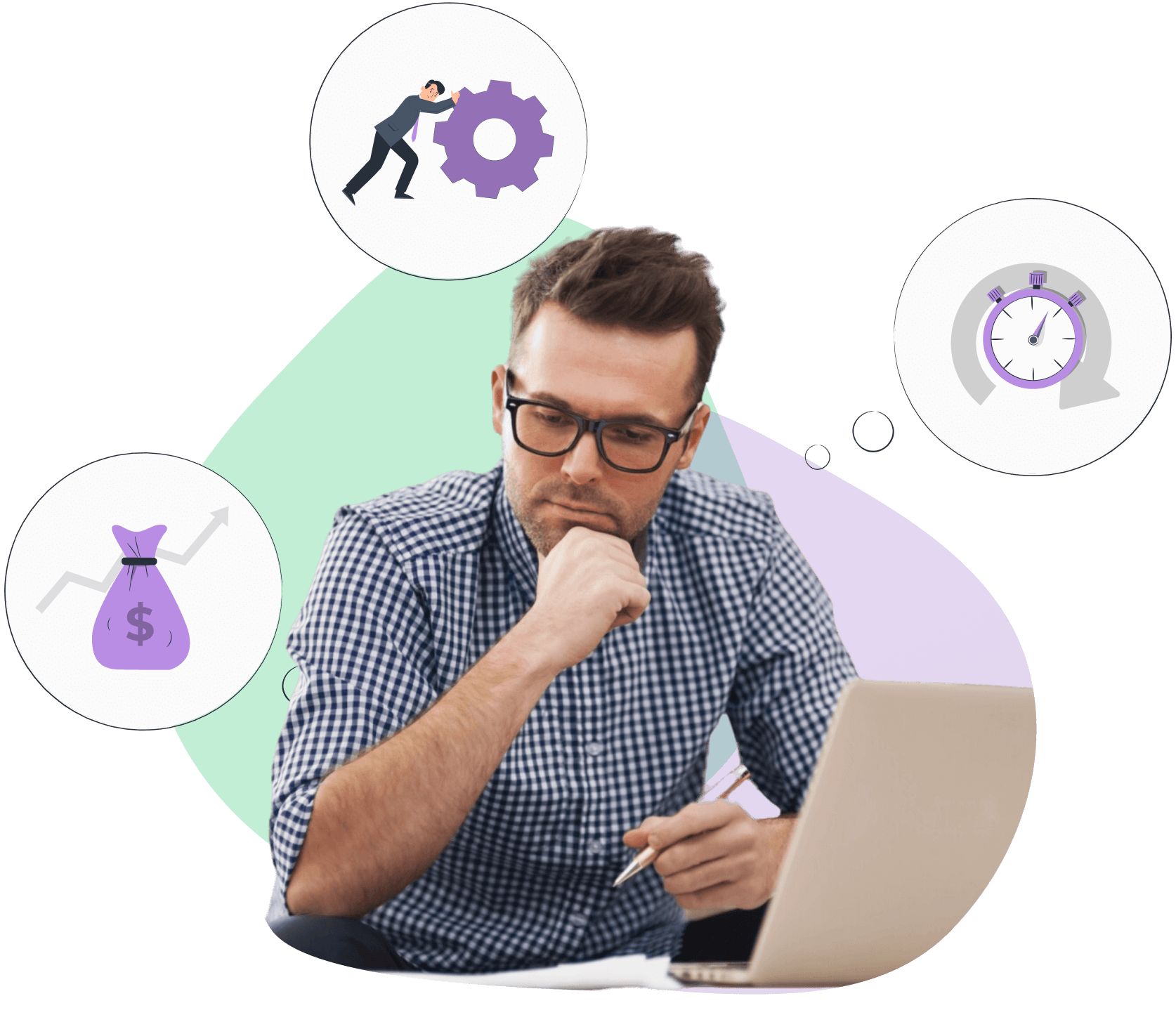 Slash customer support costs
Free your HR team from repetitive work
Reduce IT resource burdens
Elevate your customer experience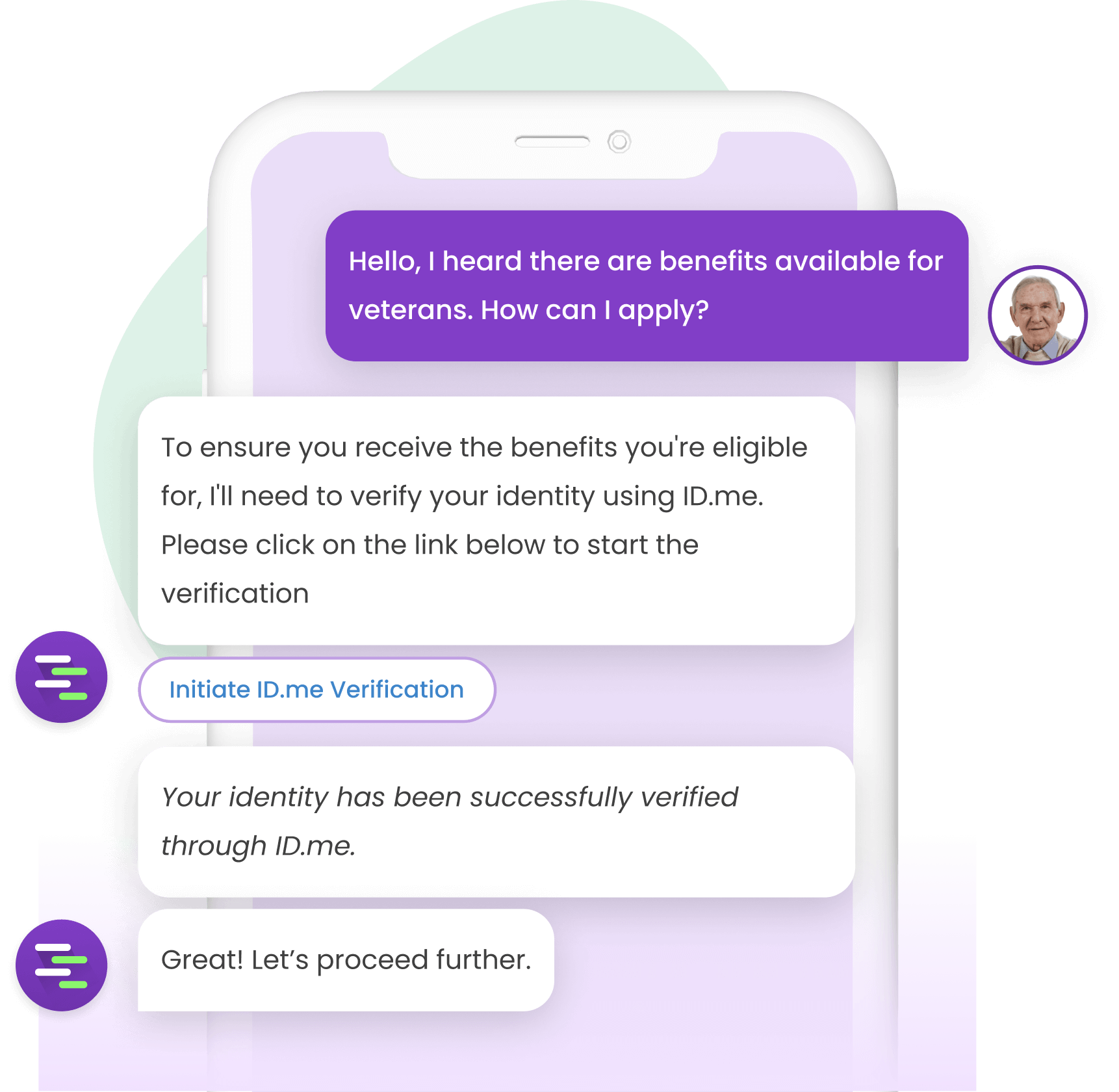 With Tars' Conversational AI, effortlessly align with your enterprise backbone. Facilitate intuitive customer engagements, ensure uninterrupted self-service access, and cultivate experiences that don't just satisfy, but delight, all while liberating your staff from mundane work.
Transform your customer engagement
Empower employee interactions with tailored automation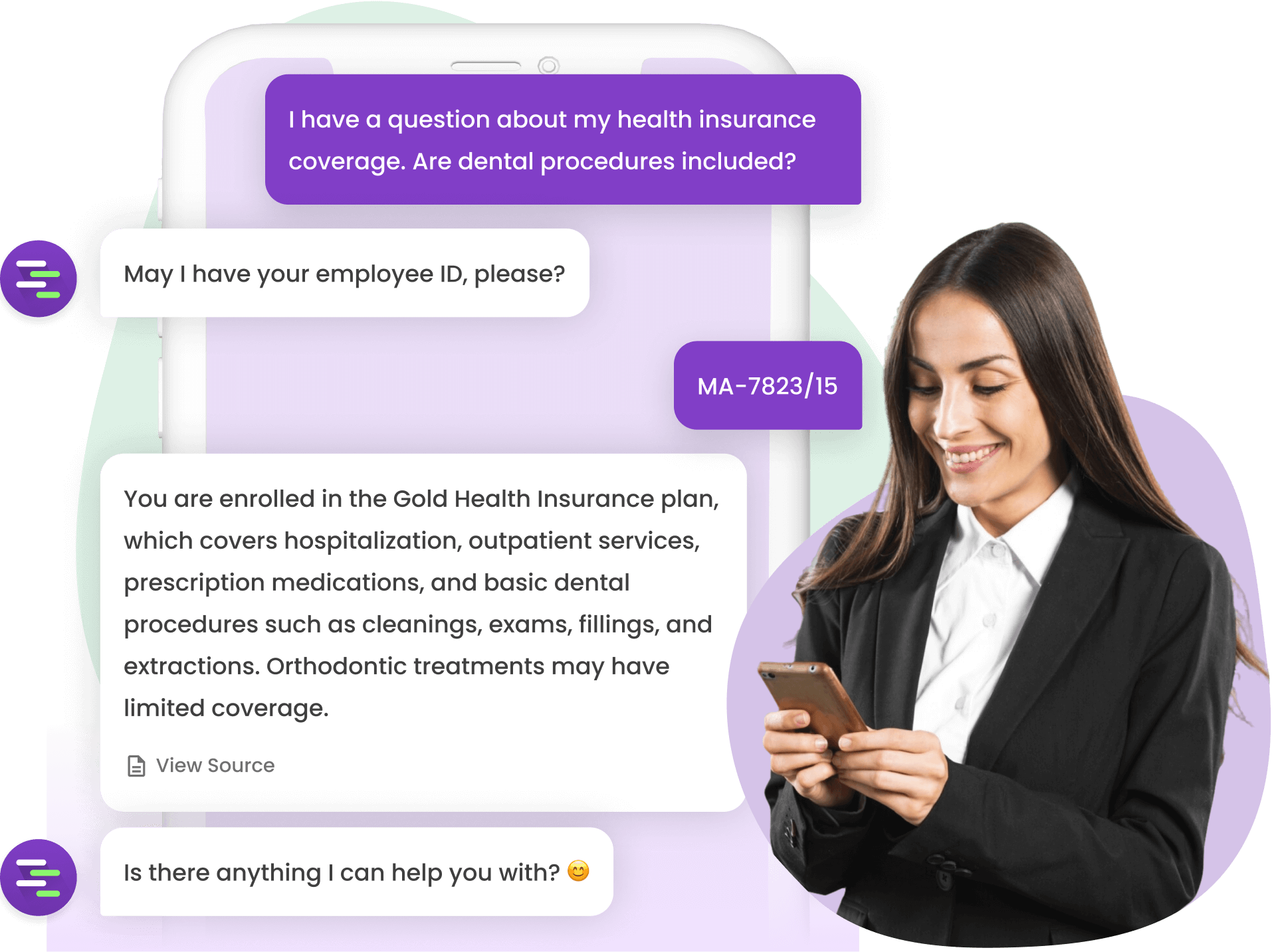 Leverage Tars' Conversational AI for intuitive internal operations. Offer employees round-the-clock self-service to essential HR services like payroll and leave management. Enrich their experience, while granting HR the freedom to focus on strategic initiatives and personal touchpoints.
Enhance employee experience
Enhance marketing strategy with AI-powered interactions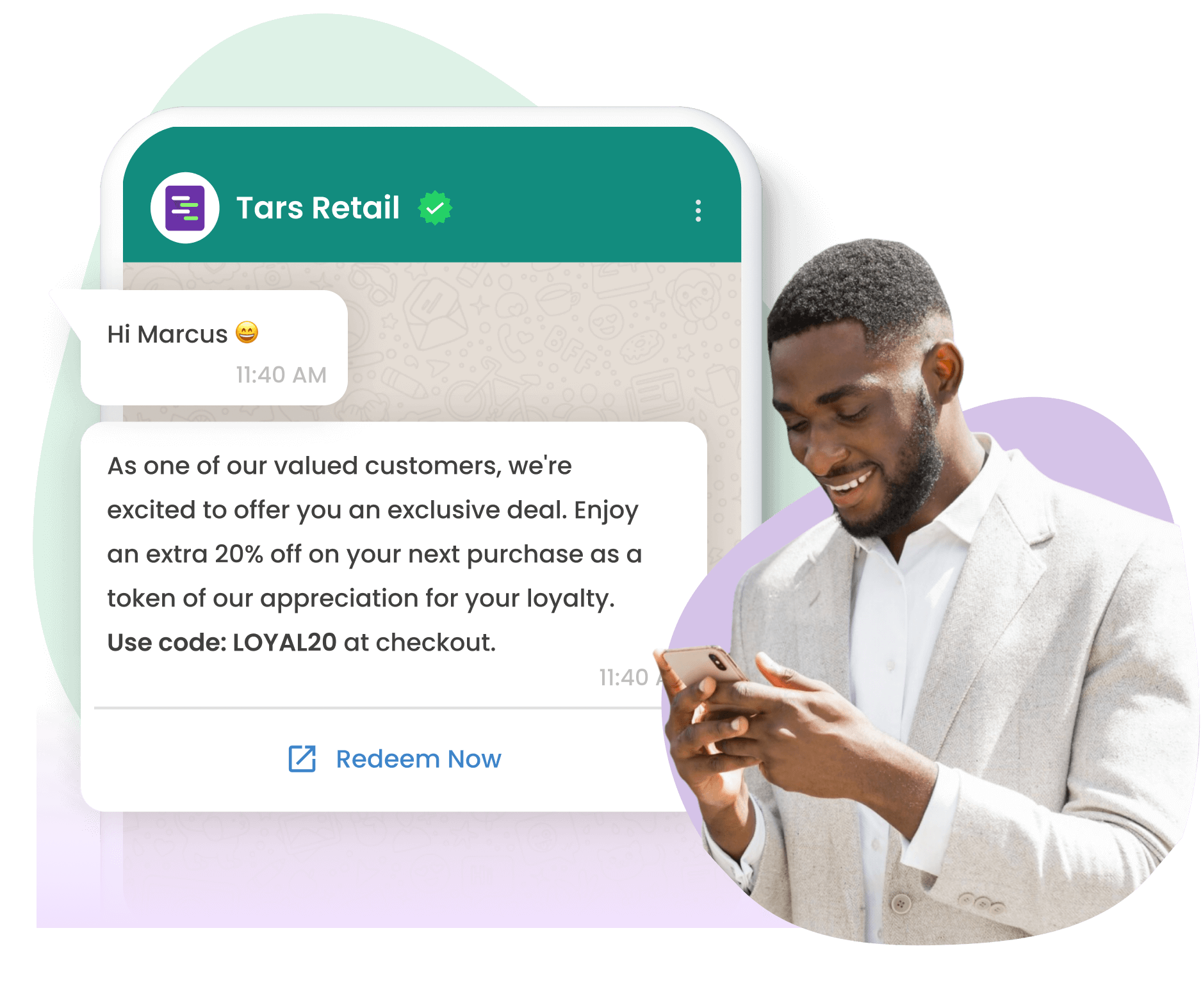 Harness the power of Conversational AI to revolutionize your marketing campaigns. With Tars, automate the nuances of lead nurturing and streamline campaign processes. This empowers your marketing team to focus on creative ideation and strategic innovations, ensuring every campaign resonates profoundly with your audience.
Optimize lead nurturing today
How our
human-centric AI

comes to life
Designing conversational journey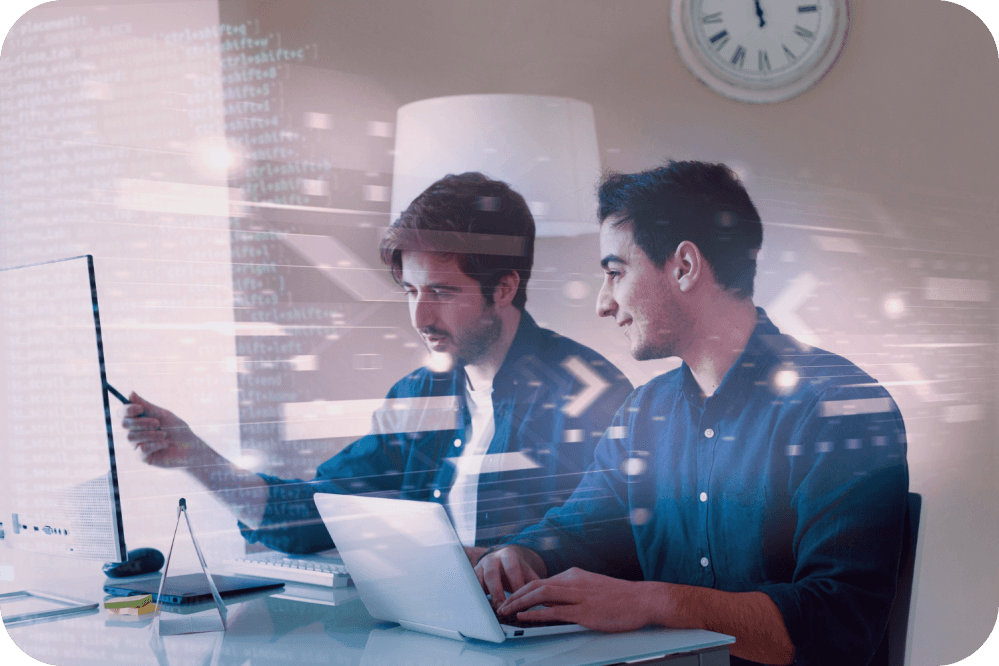 Automation consulting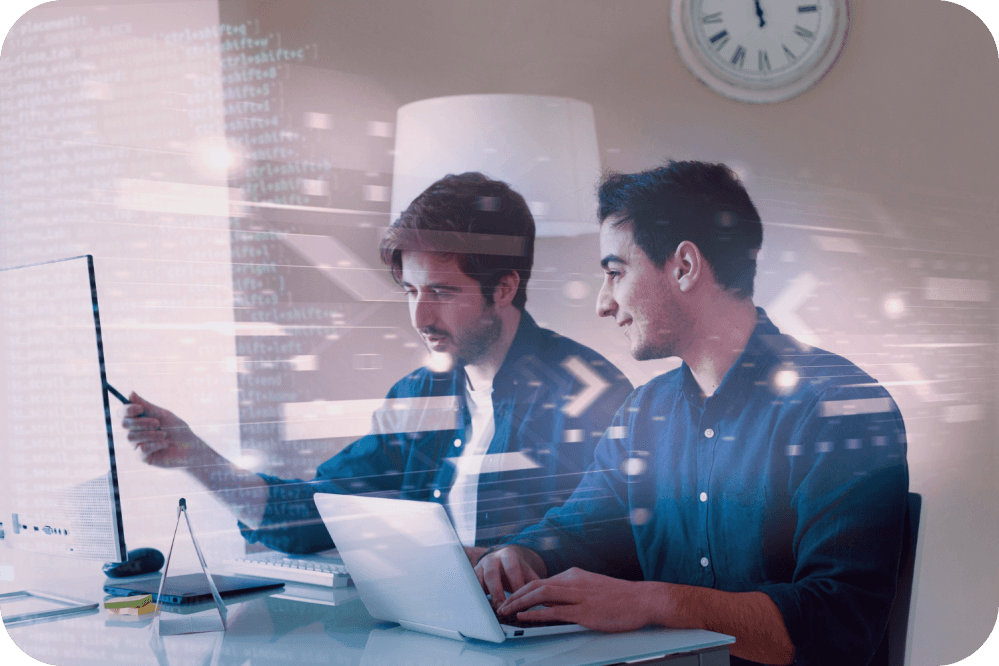 We don't just skim the surface. By diving into your operations, we identify real challenges and friction points. Our aim is to design solutions that align perfectly with your goals and feel organically woven into your workflows.
Enterprise-grade security

you can

trust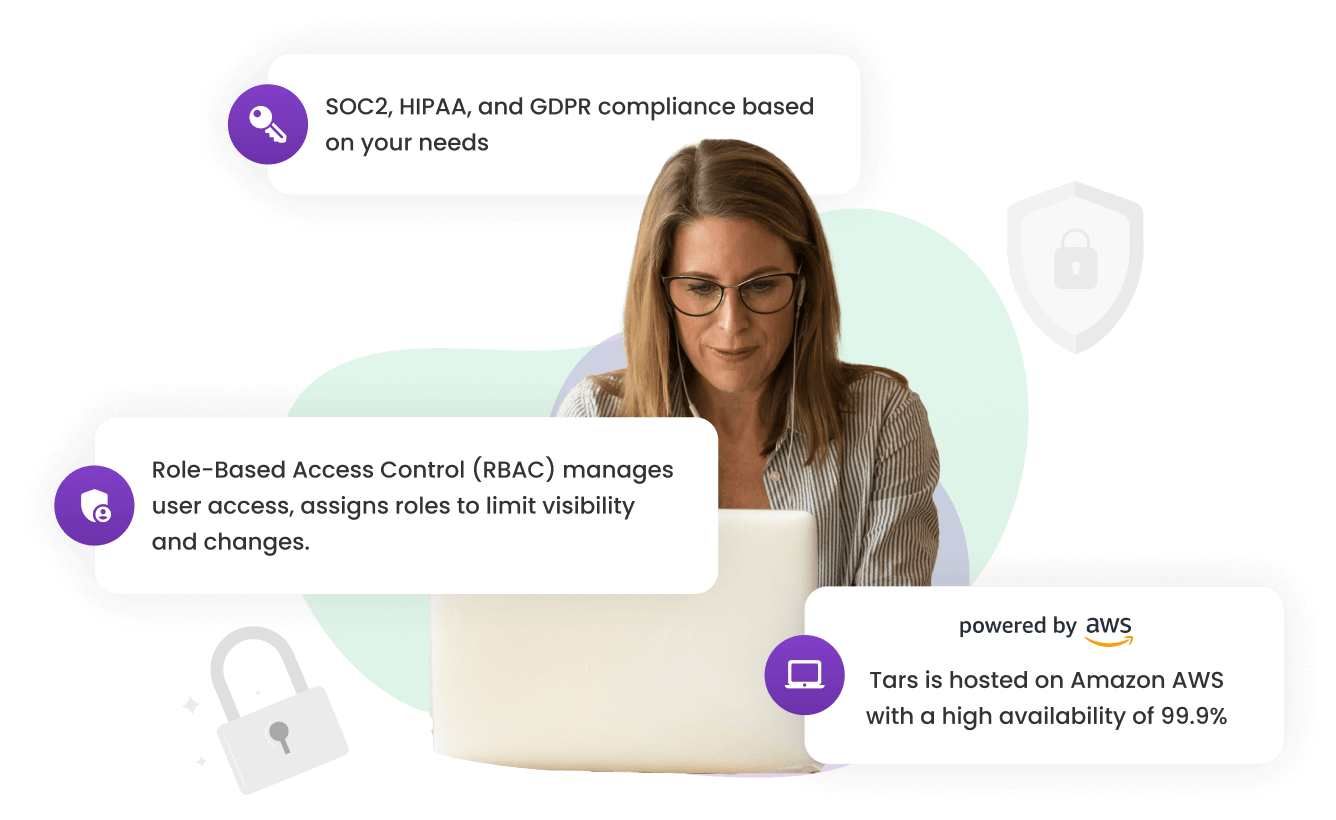 We ensure a zero-trust approach
Our zero-trust strategy uses layered controls with strict access, least privilege, and role-based permissions. Data is encrypted in transit and at rest. We undergo internal and external security audits regularly.
Compliance tailored to your requirements
On the compliance front, we enable frameworks like SOC2, HIPAA, and GDPR based on your specific regulatory requirements. And ensure high-availability and performant architecture across multiple regions.
Retain full ownership and control of your data
We take enterprise security seriously and will partner with you each step of the way to implement conversational AI that reduces risk while delivering an exceptional user experience. Your platform, your rules. You retain full ownership and control over your data.
Harness the transformative capabilities of LLM driven automation for your enterprise.
Enterprise

use case

templates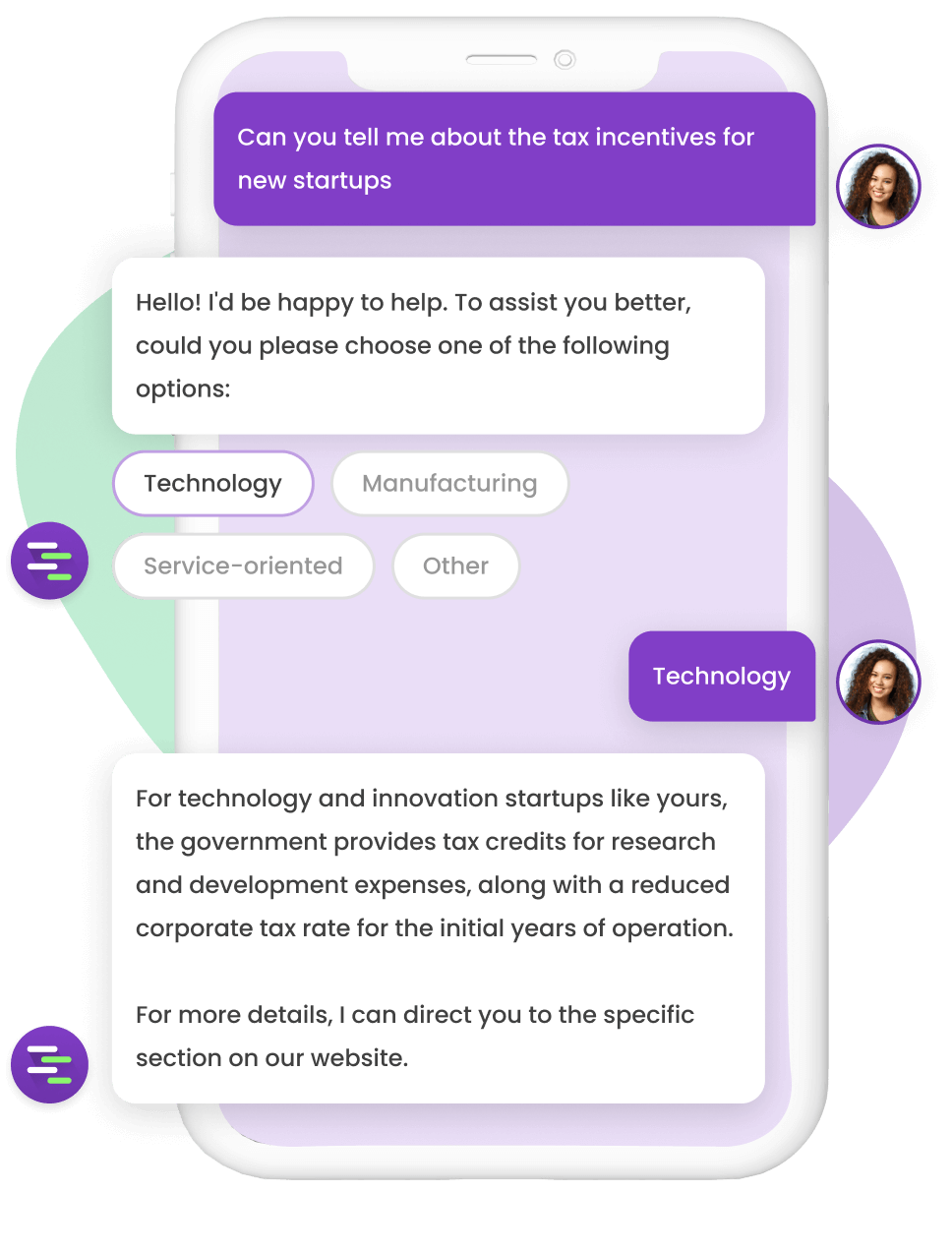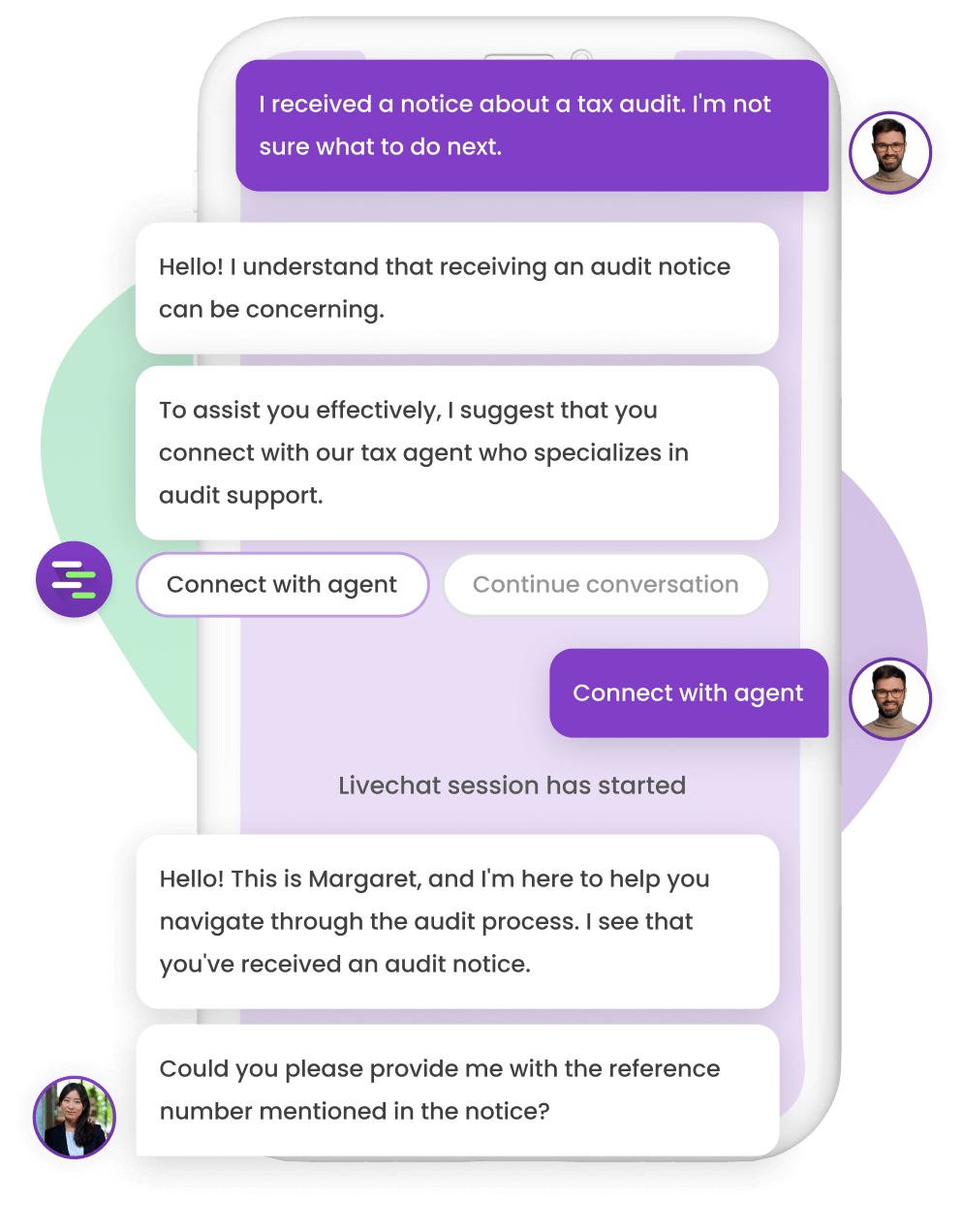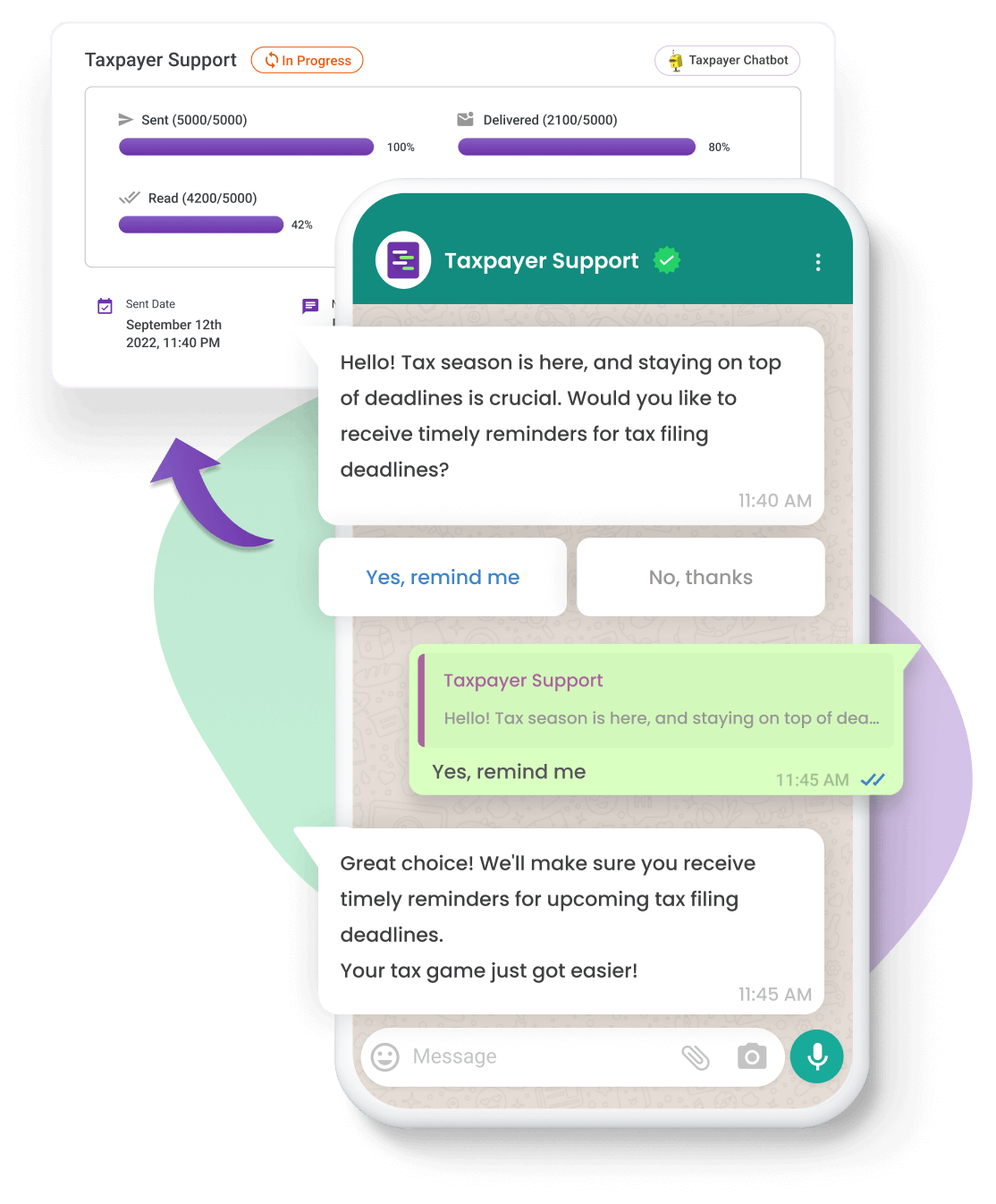 Making tax conversations simple
No more wading through dense documents to find a single piece of information. Our AI chatbots sift through taxpayer data, promptly addressing refund statuses, deductible queries, and much more.
Always there when you need a human touch
Sometimes, AI can't replace the assurance a human voice provides, especially when audits loom large. In such cases, Tars ensures a smooth handover to agents who can provide that personalized guidance every taxpayer seeks.
Never miss a date with Tars
In the bustle of life, it's easy to forget deadlines. But with Tars on your side, taxpayers receive timely reminders and insightful tips, ensuring they stay on top of their tax game, straight on their preferred channels.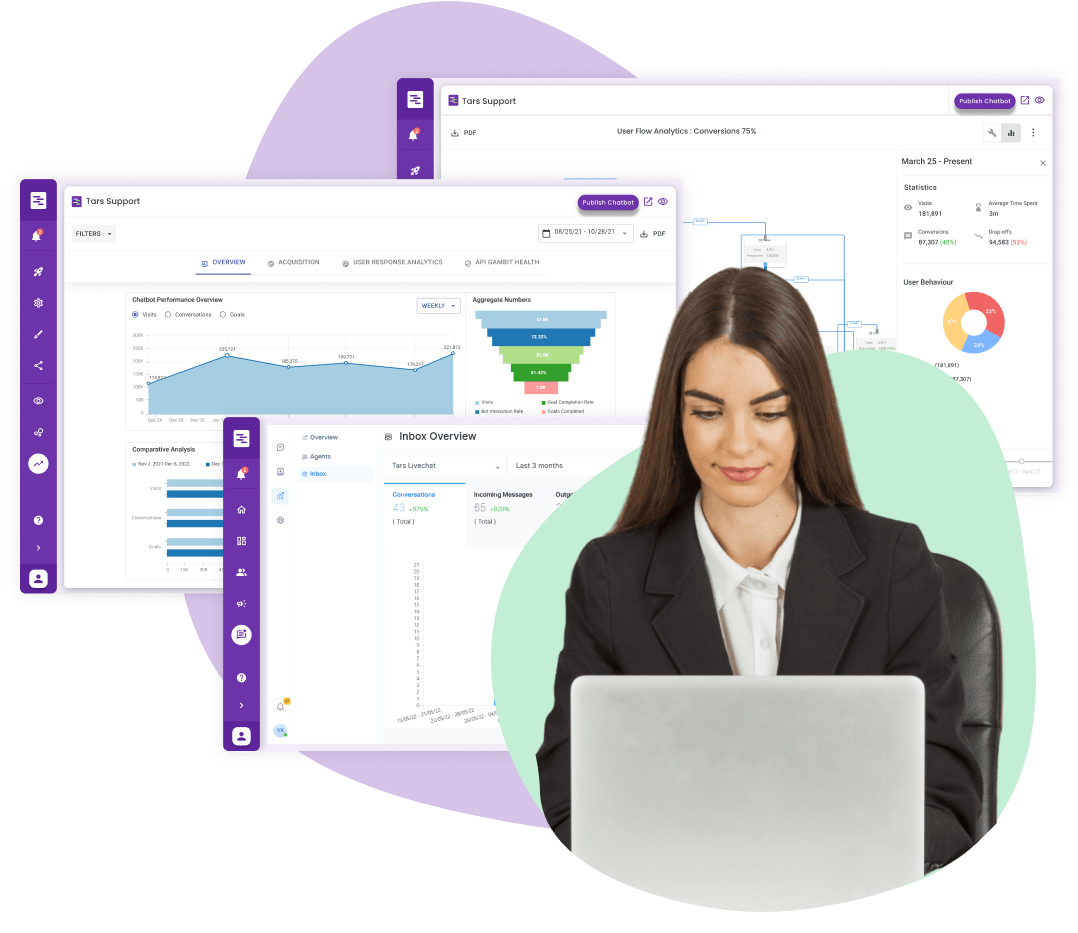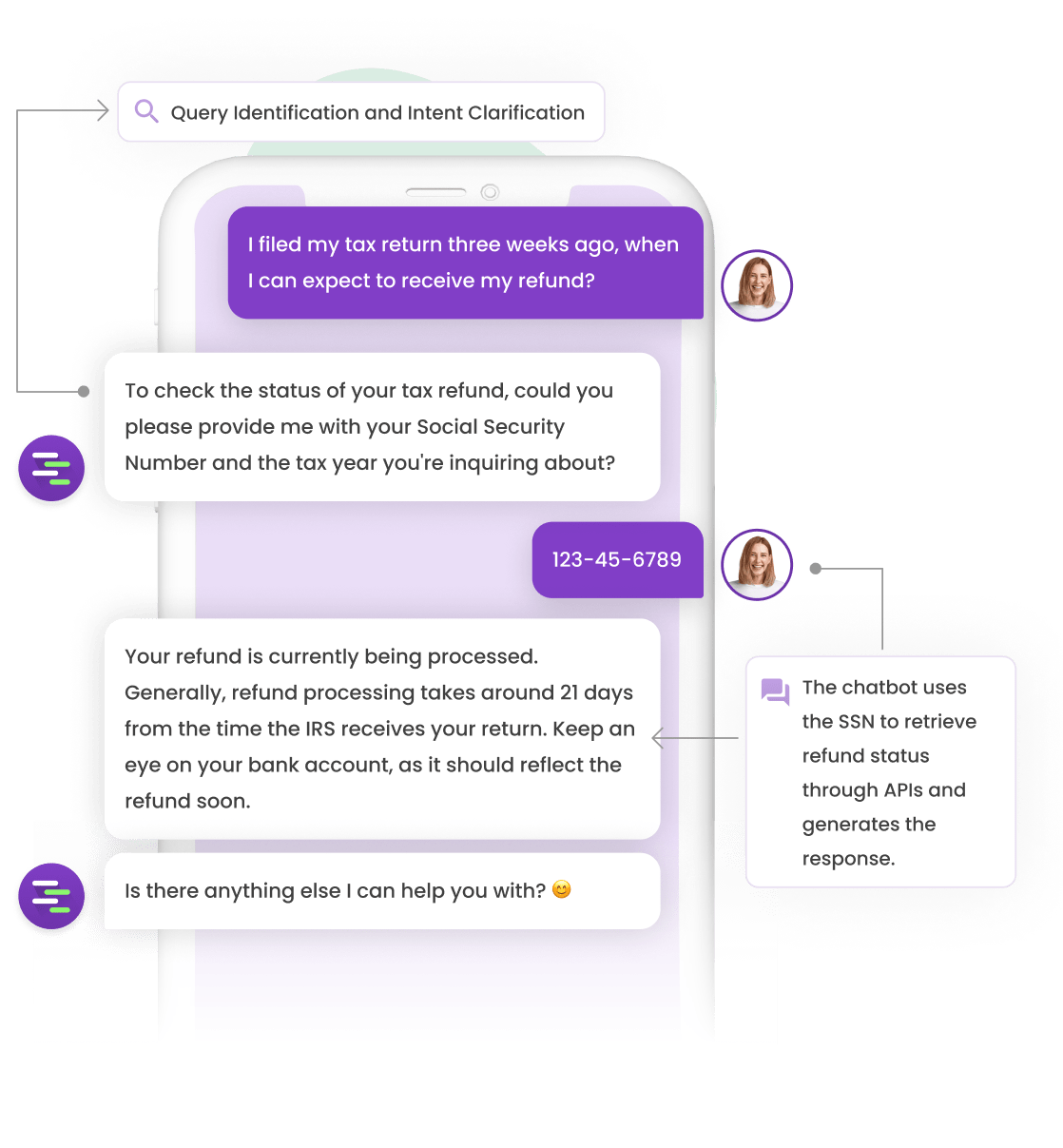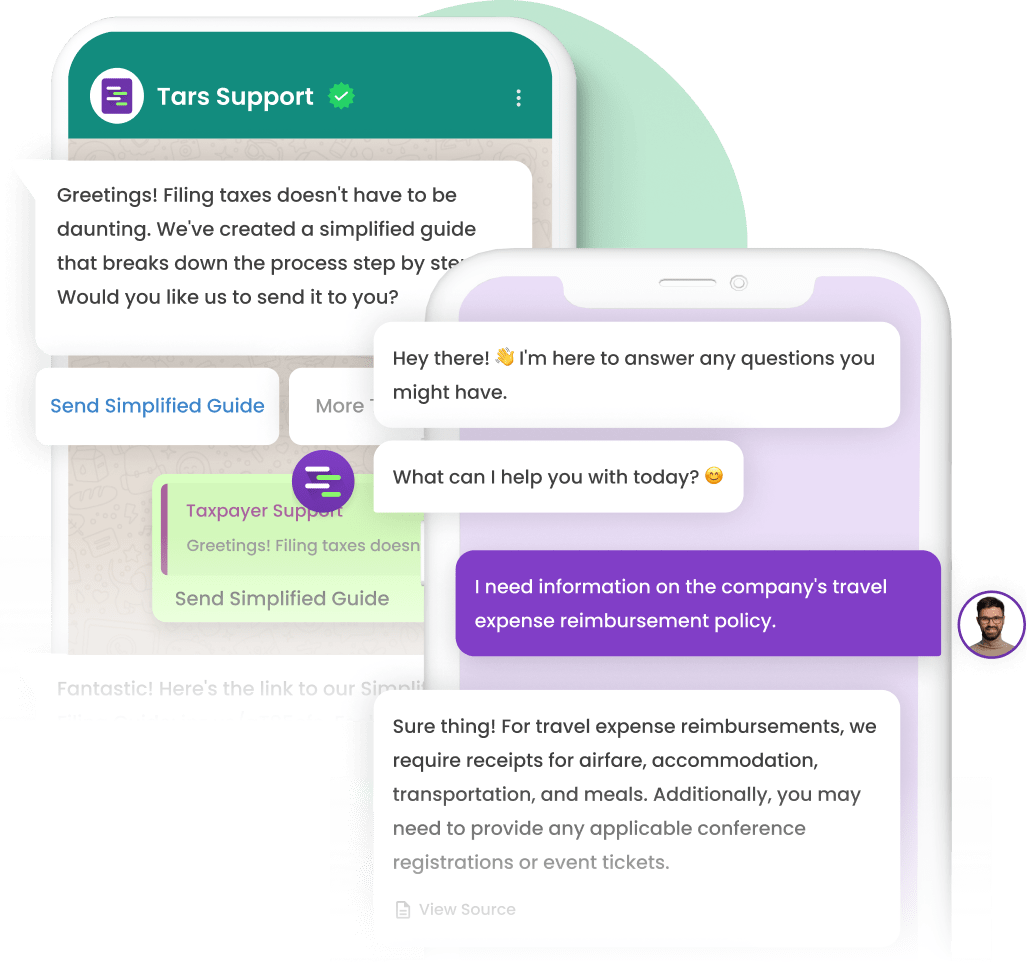 Evolving with every query
With Tars' advanced analytics, governments can gain insights into recurrent taxpayer questions, refine online resources, and improve the self-service tax filing journey.
Real-time, seamless assistance
Navigating government databases can be a trial. Tars eases this process, integrating fluidly with government tax systems, ensuring that taxpayers get real-time responses without those agonizing wait times.
Support everywhere, every time
Tax concerns aren't 9-5, and neither is Tars. Be it on the government portal, mobile applications, or even through popular messaging platforms, Tars ensures taxpayers have round-the-clock access to quality assistance.
Our
achievements

in

numbers
7+
years in the enterprise conversational AI space
700+
global brands that we've worked with
50m+
customer conversations automated
10+
countries with deployed chatbots